Aldi is a small-box discount supermarket and one of the largest retailers in the United States. It began as a small, family-owned food store in Germany at the beginning of the 20th century.The company became Aldi in 1962 after brothers Karl and Theo Albrecht assumed management from their mother. The brothers initially named the store "Albrecht-Diskont" ("Albrecht Discount" in English), which conveniently translates to "Aldi."

Here, we'll discuss what Aldi is, whether it's publicly traded, when Aldi might offer an IPO, if Aldi is profitable, and if investing in Aldi is a good idea. We'll also take a brief look at Aldi's closest competitors, as well as the ways you might try to gain indirect exposure to Aldi.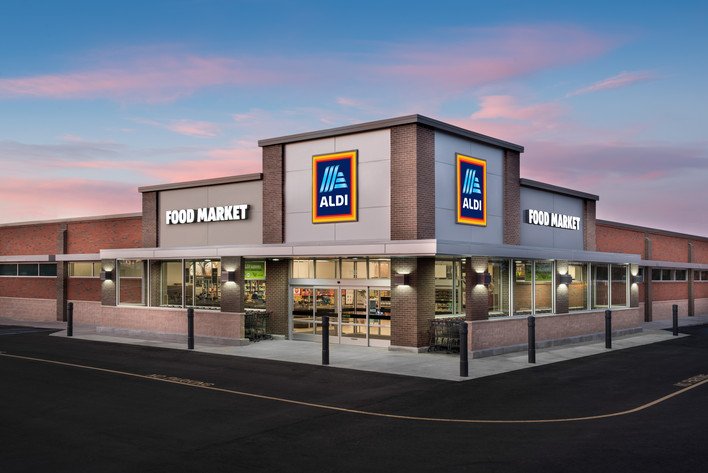 Image source: Aldi.
Is Aldi publicly traded?
Is Aldi publicly traded?
No, Aldi is not publicly traded as of August 2023. Aldi is a privately owned multinational corporation, and as such, you cannot buy shares on any public stock exchange.

There are a few reasons why Aldi has not yet gone public. First, the company has been enormously profitable without shareholder money, and offering shares to the public would ultimately mean ceding some level of corporate control to non-family members. It's understandable that the family would want to keep their legacy private.Next, Aldi has the resources to grow and expand without the need for outside money. It's clearly important to the company's founders that incentives remain aligned between the company and its customers -- without any outside influence. Conservatively, the company's stock is estimated to be worth around $50 billion.

Finally, Aldi is known for its low prices on food and other merchandise, and its simplified operating system; an initial public offering (IPO) could only serve to complicate its already-successful corporate structure. The company operates smaller-than-typical stores and smaller staff pods; this allows Aldi to control its costs better than most rivals.
When will Aldi IPO?
When will Aldi IPO?
As mentioned, don't count on an IPO from Aldi any time soon. The company is a privately-owned family business, and the current leadership team has not expressed any interest in an IPO -- much less one in the near future.However, if Aldi did launch an IPO, it would be greatly anticipated and likely very popular.
Is Aldi profitable?
Is Aldi profitable?
Yes, Aldi is an immensely profitable company, though its specific financial data is difficult to find compared to most publicly traded companies. Collectively, Aldi brought in more than $120 billion in 2021, and this number is likely to be closer to $150 billion in 2022; this revenue number considers Aldi's subsidiaries, including Aldi USA.
The degree to which Aldi's profitability has grown is difficult to pinpoint, given its status as a privately owned company. However, it's reasonable to estimate that both in-store efficiency and broader economic factors (like booming inflation) have led to significant profit growth.
Gross profit margin is a measure of a company's profitability, usually expressed as a percentage. It is the difference of gross profit minus cost of goods sold divided by top-line revenue.
Should I invest in Aldi?
Should I invest in Aldi?
Investing in Aldi isn't something you'll be able to do directly since the company isn't publicly traded. But you are able to invest in companies exposed to a similar customer base as well as those exposed to similar economic variables.
Well-known companies with some customer overlap might include Kroger (KR 0.16%), Walmart (WMT -0.03%), and Costco (NYSE:COST), although the business models don't align perfectly, and none will offer a "pure-play" investment in Aldi. Still, several of the big-box retailers in the United States do serve a similar customer base and might be worth looking into if you're interested in Aldi.
Similarly, factors like inflation, interest rates, and broad economic activity affect Aldi's competitors in a related manner. If you're interested in investing in Aldi, you won't be able to do it directly, but you can opt for companies exposed to many of the same economic drivers.
ETFs with exposure to Aldi
ETFs with exposure to Aldi
You won't find an exchange-traded fund (ETF) with exposure to Aldi since Aldi isn't a publicly traded company.
You can, however, invest in ETFs that contain Aldi's competitors, as well as other large multinational food retailers or companies that reside in the consumer staples sector.
Specifically, you might consider funds like the Vanguard Consumer Staples Index Fund ETF (NYSE:VDC) or the Fidelity MSCI Consumer Staples Index ETF (NYSE:FSTA). These ETFs contain companies that offer basic home needs, like food and hygiene products. Generally speaking, people buy these items consistently since they're considered needs and not luxuries.
As with any ETF, take a good look at the fund's investment portfolio as well as the fund's underlying expense ratio (how much you have to pay to own the fund) before jumping in.
The bottom line on Aldi
The bottom line on Aldi
Aldi has no doubt become one of the more competitive discount supermarkets across the country and has gained notoriety in recent years for its low-cost offerings. Unfortunately for many aspiring shareholders, Aldi is not a publicly traded company and is not available for direct investment. Aldi is family-owned and is likely to remain that way for the foreseeable future.

Still, there are ways to invest in companies similar to Aldi, either by buying the publicly traded shares of a competitor or by buying sector ETFs that follow consumer staples stocks. Although the choices aren't a pure-play investment into Aldi, you might receive some of the same exposure.

Aldi is a bit more of an enigma than most people would like, but privately owned companies tend to operate this way to protect their trade secrets.
Investing in Aldi FAQs
Can you buy stock in Aldi?
No. As of July 2023, the company is not publicly traded and you aren't able to buy stock in Aldi. The company is privately owned and does not anticipate an IPO in the near future.
Who are the largest shareholders of Aldi?
The largest shareholders of Aldi are members of the Albrecht family, and they own the grand majority of Aldi through two foundations. The Markus Foundation and the Lukas Foundation own about 80% of Aldi Nord; the Jakobus Foundation owns Aldi Sud.Aldi Nord and Aldi Sud represent two separate groups of Aldi-branded stores. Trader Joe's is a well-known subsidiary of Aldi Nord.
Should I invest in Aldi?
Aldi is not publicly traded, meaning you aren't able to buy stock in Aldi. However, there are several publicly traded competitors in the consumer staples sector, including Kroger, Costco, and Walmart.
Sam Swenson, CFA, CPA
has no position in any of the stocks mentioned. The Motley Fool has positions in and recommends Walmart. The Motley Fool recommends Kroger. The Motley Fool has a
disclosure policy
.