If you're familiar with the payments industry, you might be wondering how to invest in Block, Inc. (SQ -0.06%). Over the past several years, Block has established itself as a pioneer in payment processing, making it one of the preeminent fintech firms in existence.
For reference, the company changed its name to Block, Inc. from Square, Inc. in December 2021. The name change was primarily to distinguish Block from its brand-name components, like Square and Cash App.

Here, we'll provide an overview of how to invest in Block stock and provide some high-level guidance as to whether Block may be a suitable investment for your portfolio. Then, we'll review Block's profitability, its stance on dividends, and the potential for future Block stock splits.

Finally, we'll address how to invest in Block indirectly (through exchange-traded funds) if direct investment feels too risky for you.
How to buy Block stock
How to buy Block stock
Let's tackle the hands-on work first.

Below, you'll find a series of screenshots that shows how to buy Block stock on Fidelity's user-friendly website.

First, log in to your account at Fidelity. You can also use another online broker that allows DIY stock trading. Vanguard, Charles Schwab, and E*Trade are other popular brokers that you might consider using.Select "Trade" on the upper left-hand corner of your screen, and a trade ticket will appear.
Fidelity Trade Ticket - Block, Inc. Buy Ticket 1
To buy Block stock, make sure you've selected "Stocks/ETFs" from the "Trade" menu and then select the account you'd like to make the trade within.

For "Symbol," select "SQ." This will pull in the most recent trading price, volume, and other key data for Block. (Note that Block's stock symbol reflects the company's previous name.)

For "Action," select "Buy." For quantity, you'll need to divide the amount of money you want to invest in Block by the current share price. For example, if you want to invest $1,000, you'd divide $1,000 by $67.27 to arrive at 14 shares (plus slightly more if your broker supports the purchase of fractional shares).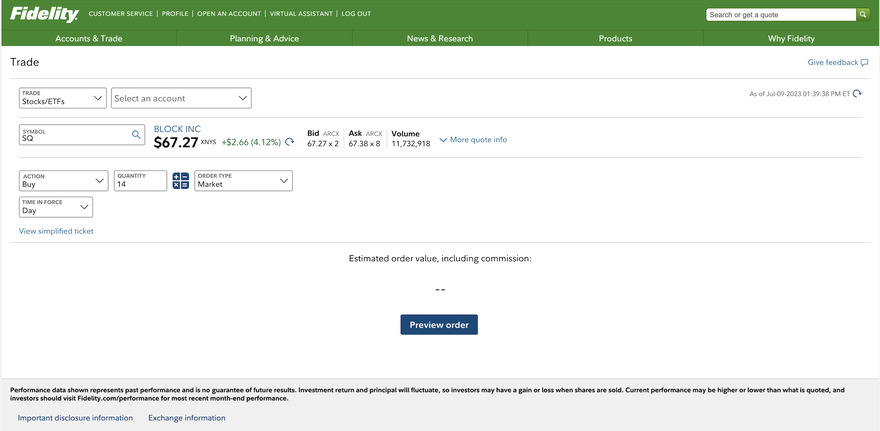 Fidelity Trade Ticket - Block, Inc. Buy Ticket 2
Once you've entered your share quantity, you'll need to select an order type. For fast execution, most users will select "Market" under "Order Type," though there are other order type options for more seasoned traders. If you select "Limit" as the order type, the order won't execute if the market price exceeds your limit price.

Finally, for "Time in Force," select "Day." This means that the order will expire at the end of the trading day if not filled. If you selected "Market" as the order type, it's almost certain your order will be filled by the end of the trading day.

Once you've double-checked your entries, hit "Preview order" and then place your order on the following screen.If your order contains an error, or if you don't have enough cash to cover the trade, you'll receive an error message requesting you to amend your order ticket.
Should I invest in Block?
Should I invest in Block?
Whether shares of Block are right for your portfolio is a purely subjective question. Some investors may view the idea of investing in single companies as unnecessarily risky, while others might view Block's growth potential as a can't-miss opportunity.

Block's services operate as point-of-sale (POS) systems, which allow sellers to seamlessly make sales, securely accept payments, and quickly check out customers. Block's Cash App service acts in a similar fashion from the buyer's perspective.

Since mid-2021, Block has lost almost 80% of its market value. The stock plunged from about $275 per share to just less than $70 per share by mid-2023. On the one hand, the company has shown an ability to increase revenue; its sales have increased from less than $10 billion to almost $20 billion just over the past few years. Its core offerings have also become household names in a short period of time.

On the flip side, Block has posted some fairly ugly net income numbers over the past several quarters, with losses ranging from $80 million to $540 million. This is primarily due to excessive operating expenses as well as higher-than-anticipated product development costs. There are also concerns about the Cash App brand and its use as a tool by criminals.
Revenue minus all expenses.
Finally, if you're an income investor, Block isn't the stock for you. It hasn't paid a dividend in its public history, and you shouldn't expect it to start any time soon.
This is all to say that Block might be worth a flier if you're willing to wait some time for growth and for the company's management team to get its expenses under control. They've also got some work to do in solidifying the Cash App brand as a safe and trusted payment processor.
Is Block profitable?
Is Block profitable?
While Block posted an annual loss of more than $500 million in 2022, it has logged modest net income gains in the past. From 2019 to 2021, Block was able to turn relatively small profits ranging from $150 million to about $400 million.

Overall, Block's gross margin has generally been a bit healthier than its net margin. The company's gross margin, as of its last quarterly report, was about 35%; this means that Block knows how to generate revenue and convert it into profit after operating expenses.

The focus for Block seems to be controlling its other expenses, like selling, general, and administrative expenses, as well as its product development costs.

For prospective Block investors, the positive angle is that the company has grown its revenue at a staggeringly fast pace, taking the company from relative obscurity a decade ago to one of the most widespread payments companies in the world today.
Does Block pay a dividend?
Does Block pay a dividend?
No. As of July 2023, Block didn't pay a dividend to its shareholders. This is characteristic of many growth-focused firms in the space and doesn't present a concern from a financial health standpoint.
ETFs with exposure to Block
ETFs with exposure to Block
Diversification is one of the foundational pillars of sound investing; in other words, you don't want to put all your eggs in one basket. Investing a large percentage of your portfolio in any one company can come back to bite you if that company were to experience significant share price declines.

That's where ETFs, or exchange-traded funds, come in. Instead of investing directly in Block company stock, you can invest in a single fund that holds many different companies in the same sector (along with Block itself).

If this sounds appealing, consider ETFs like the iShares Blockchain and Tech ETF (NYSE:IBLC) or the Ark FinTech Innovation ETF (NYSE:ARKF). Both funds have exposure to Block in the amounts of 11% and 9%, respectively.

ETFs can help to diversify some of the risk associated with investing in single stocks. This way, you'll still be able to invest in Block without being exposed to its unique business risks.
Will Block stock split?
Will Block stock split?
There isn't any forecast for a Block stock split in the near future, and the company hasn't split its common stock in the past. If the stock were to get prohibitively expensive in the future, it's conceivable that a stock split may occur. But there was nothing planned in the way of a Block stock split in mid-2023.
The bottom line
The bottom line on Block
Block has gained tremendous press coverage for its revenue growth and the reach of its two primary components, Square and Cash App. Still, the company has struggled to maintain its net margin over the past several quarters and to justify its once-astronomical share price.Overall, shares of Block remain compelling for those confident in the company's management team to control non-operating expenses and for those willing to take a flier on the company's ability to further expand revenues.

Before investing in any stock, try to make a commitment to hold it for the long term regardless of its day-to-day fluctuations. At the same time, make sure you understand how the stock fits into your broader financial portfolio.
Investing in Block FAQs
Has Block ever been profitable?
Yes. Even though recent quarters have been negative, Block consistently posts a positive gross margin and has posted a positive net margin in the past. From 2019 through 2021, Block posted a net margin between $150 million and $400 million in each of the three fiscal years.
What is the future of Block stock?
The future of Block stock is unknowable in advance. On the one hand, Block has grown its revenues in a meaningful way over the past decade while also consistently posting a positive gross margin; on the other hand, the company faces a major hurdle in managing its non-operating expenses and in dealing with Cash App's reputational issues.