Blue Origin's bold vision seems like something from a science fiction movie. The company envisions a time when millions of people will live and work in space for the benefit of Earth.

Amazon (AMZN -0.09%) founder Jeff Bezos is behind the company's ambitious vision. He founded Blue Origin in 2000. It's one of Bezos' many investments.

The company is a long way from achieving its vision. Its current focus is on aerospace manufacturing and providing space services. It also has a space tourism business.

The sky is the limit for Blue Origin. That has many investors eagerly anticipating its initial public offering (IPO). Here's a guide to everything you need to know about how to invest in Blue Origin ahead of its eventual IPO.
IPO (Initial Public Offering) is the first sale of stock by a private company to the public, making it a publicly traded entity.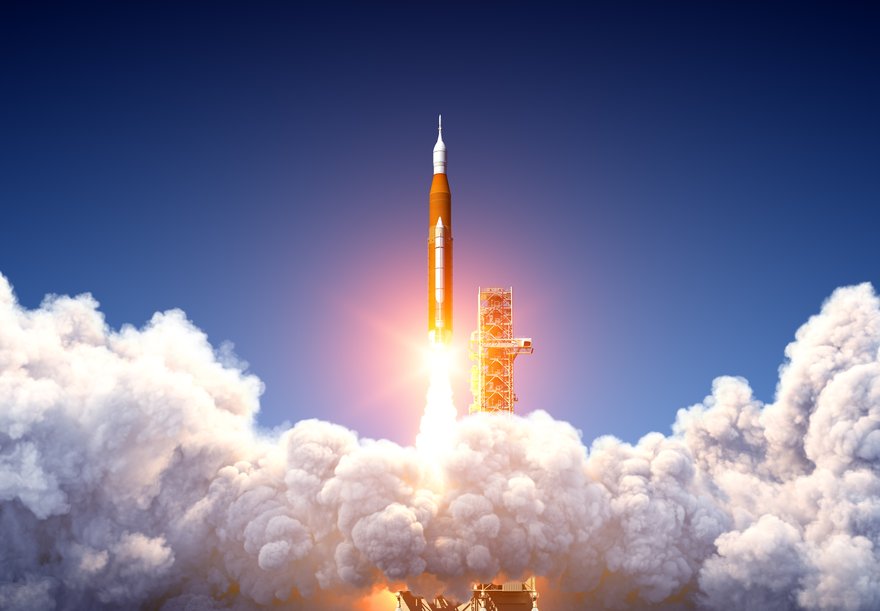 Image source: Getty Images.
Is it publicly traded?
Is Blue Origin publicly traded?
Blue Origin is a privately held company. It doesn't trade publicly on major stock exchanges like the NYSE or Nasdaq.

Amazon founder Jeff Bezos is a leading investor in Blue Origin. He has reportedly invested more than $5.5 billion of his own money into the company.
When will it IPO?
When Will Blue Origin IPO?
As of late 2023, Blue Origin doesn't have an IPO on the calendar. The company also had yet to announce plans to go public. Bezos currently prefers to keep his space company private.
How to buy it
How to buy Blue Origin stock
Blue Origin is a private company controlled by Bezos. Since it's not publicly traded, you can't buy shares in a regular brokerage account as you can with other stocks.

However, accredited investors (i.e., high-net-worth individuals or those with high incomes) can sometimes buy pre-IPO shares of companies like Blue Origin on secondary platforms like Equity Bee or Forge Global. Accredited investors who really want to own shares ahead of its IPO should check out those platforms to see if they have shares available.

Meanwhile, unaccredited investors will have to wait for Blue Origin to go public before they can buy shares of the space technology company. In the meantime, those interested in space stocks can consider investing in a Blue Origin alternative. Here are three top options in the space sector that interested investors can buy right now:
Boeing
Boeing (BA 0.45%) is a leading aerospace company. It develops and builds airplanes, defense products, and space systems. The company's defense, space, and security business unit develops and produces commercial and government satellites and human spaceflight programs. The company has an illustrious history as part of various space programs, including Apollo and the space shuttle program. Boeing is working with NASA on the Space Launch System Rocket that will eventually carry people to Mars.
L3Harris Technologies
L3Harris Technologies (LHX -0.01%) is an aerospace and defense company providing solutions in the space, air, land, sea, and cyber sectors. The company enhanced its space technology segment in 2023 by closing its acquisition of Aerojet Rocketdyne, a leader in propulsion systems. Aerojet Rocketdyne has a long history of innovation in the space exploration sector, adding to L3Harris Technologies' expertise in the industry.
Virgin Galactic Holdings
Virgin Galactic Holdings (SPCE 5.19%) is an aerospace and space travel company. As with Blue Origin, its founder is a well-known entrepreneurial billionaire (Richard Branson). The company pioneered human spaceflight for individuals, making it a direct competitor to Blue Origin. The company plans to launch a new class of spaceships for commercial space tourism by 2026.

People who want to buy one of these Blue Origin alternatives can purchase shares in any brokerage account. Here's a step-by-step guide to investing in these space stocks.
Step 1: Open a brokerage account: You'll have to open and fund a brokerage account before buying shares of any company. If you still need to open one, here are some of the best-rated brokers and trading platforms. Take your time to research the brokers to find the best one for you.
Step 2: Figure out your budget: Before making your first trade, you'll need to determine how much money you want to invest. You'll then want to decide how to allocate that money. The Motley Fool's investing philosophy recommends building a diversified portfolio of 25 or more stocks you plan to hold for at least five years. You don't have to get there on the first day. For example, if you have $1,000 available to start investing, you might want to begin by allocating that money equally across at least 10 stocks and then grow from there.
Step 3: Do your research: It's essential to thoroughly research a company before buying its shares. You should learn about how it makes money, its competitors, its balance sheet, and other factors to make sure you have a solid grasp of whether the company can grow value for its shareholders over the long term.
Step 4: Place an order: Once you've opened and funded a brokerage account, set your investing budget, and researched the stock, it's time to buy shares. The process is relatively straightforward. Go to your brokerage account's order page and fill out all the relevant information, including:
Once you complete the order page, click to submit your trade and become a shareholder of one of these alternatives to Blue Origin.

Investors would follow a similar process to buy an IPO stock like Blue Origin when it goes public. Once shares become available, select Blue Origin's chosen stock ticker to buy shares through your brokerage account.
Is it profitable?
Is Blue Origin profitable?
Privately held companies like Blue Origin don't need to disclose their financial data publicly. As a result, there isn't currently much publicly available information on Blue Origin's revenue or profitability.

However, the company has provided glimpses into its financials over the years. For example, in 2020, then-CEO Bob Smith told the New York Times that Blue Origin had "gone from virtually zero revenue to now making hundreds of millions of dollars of revenue annually." Meanwhile, Bezos said in 2021 that his company had sold almost $100 million worth of tickets for future space tourism flights. The company also makes money providing commercial space services to a range of customers, including NASA. For example, it won a $3.4 billion contract from NASA to build a spacecraft to fly astronauts to the moon's surface and back.

Although Blue Origin generates lots of revenue, it's unclear if it's profitable. Investors won't know that until the company provides audited financials to the public, which it will do when it's gearing up for an IPO.
Should I invest?
Should I invest in Blue Origin?
Blue Origin is still a private company, so only accredited investors can buy shares right now. That leaves unaccredited investors with lots of time to do their research on the company before it completes its IPO, and they can buy shares. This process might increase your conviction that shares can skyrocket in the future. However, your research might uncover some things that turn you off from buying the stock.Here are some reasons you might want to become a Blue Origin investor:
You believe that space is the next investing frontier.
You think Blue Origin's stock will skyrocket after it completes its IPO.
You prefer to invest in founder-led companies.
You want to invest in a company founded and backed by Bezos.
You think Blue Origin can grow its revenue rapidly in the future as it capitalizes on space tourism.
You believe the company will eventually succeed in achieving Bezos' bold vision.
On the other hand, here are some reasons you might opt against investing in the space technology company:
You're not a fan of Bezos and don't want to invest in a company with his backing.
You're not sure Blue Origin can grow shareholder value over the long term.
You don't think space tourism will be a sustainable business for Blue Origin.
ETFs with exposure
ETFs with exposure to Blue Origin
Blue Origin isn't a publicly traded company, so investors can't gain passive exposure to its stock by investing in an exchange-traded fund (ETF).
An exchange-traded fund, or ETF, allows investors to buy many stocks or bonds at once.
However, those interested in investing in the space industry can consider an ETF focused on the sector. Here are three space-focused ETFs:
ARK Space Exploration & Innovation ETF (ARKX 1.2%): The actively managed fund (by the well-known Cathie Wood) focuses on companies engaged in space exploration and innovation. It aims to have between 35 and 55 holdings. In late 2023, its top holding was AeroVironment (AVAV 0.33%), which accounts for 8.7% of the fund's holdings. It has an ETF expense ratio of 0.75%.
Procure Space ETF (NYSEMKT:UFO): This ETF owns shares of companies involved in space-related industries. It had 36 holdings, led by Sirus XM Holdings (SIRI -0.84%) at 5.9% of its total assets in late 2023. This ETF also had a 0.75% expense ratio.
The bottom line
The bottom line on Blue Origin
Blue Origin has a bold vision of helping to support millions of people living and working in space to benefit the planet. The company is working toward achieving that mission by building a space services and tourism company that's becoming a major revenue generator. Its profits could skyrocket as it continues to press forward, making it an interesting potential IPO to watch.
Investing in Blue Origin FAQs
Does Jeff Bezos own Blue Origin?
Jeff Bezos founded Blue Origin in 2000. He has reportedly invested billions of dollars into the company and owns a significant percentage of its shares.
Can you buy shares of Blue Origin?
Blue Origin is a privately held company. Because of that, investors can't buy shares from a stock exchange through their brokerage account.However, some secondary marketplaces like EquityBee and Forge Global enable accredited investors (i.e., those with a high net worth or income) to buy shares of pre-IPO companies like Blue Origin.
Is Blue Origin privately owned?
Blue Origin is a privately owned company, founded by Amazon creator Jeff Bezos. He holds most of the space technology company's shares.
John Mackey, former CEO of Whole Foods Market, an Amazon subsidiary, is a member of The Motley Fool's board of directors.
Matthew DiLallo
has positions in AeroVironment and Amazon. The Motley Fool has positions in and recommends AeroVironment and Amazon. The Motley Fool recommends Oceaneering International. The Motley Fool has a
disclosure policy
.