Carnival (CCL 1.71%) is the largest cruise line in the world. The company operates nine cruise line brands with over 90 ships visiting more than 700 ports annually. Each day, more than 225,000 guests sail aboard its ships.
The company's unique portfolio of brands caters to a diverse range of customer segments:
Single market mainstream: Carnival (US), Aida (Germany), P&O Cruises (UK), P&O Cruises (Australia)
Regional market mainstream: Costa (Italy, France, and Spain)
Premium: Holland America Line (midsize ships) and Princess (large ships)
Luxury: Cunard
Ultra luxury: Seabourn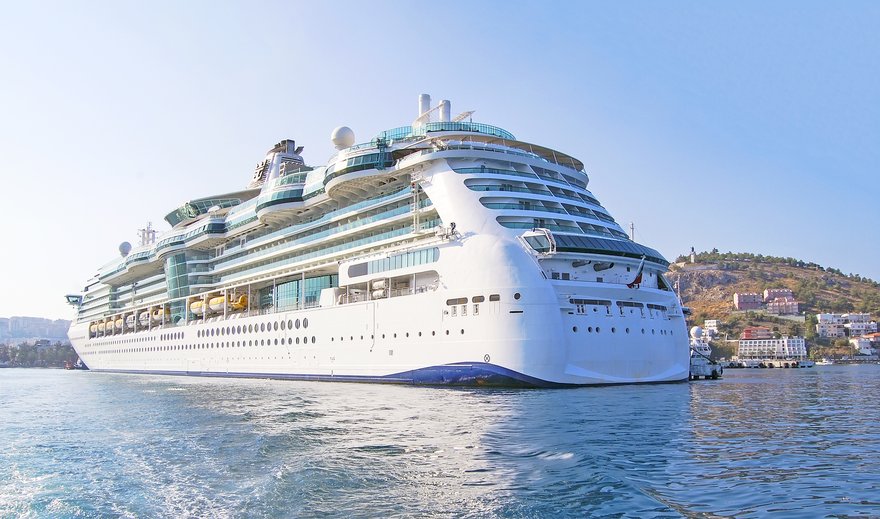 Image source: Getty Images.
Like many travel stocks, Carnival had to navigate some rough seas during the COVID-19 pandemic. The cruise line company ceased operations for several months, which had a devastating financial impact. The company had to sell stock and issue debt to stay afloat.

Carnival has been working hard to shore up its financial foundation since it resumed cruises in the middle of 2021. It has been steadily repaying debt and plans to continue doing so. It also continues to invest money to refine its fleet, which will see eight new ships delivered across its brands through 2025.The company's world-class and steadily improving fleet puts it in a strong position to capitalize on robust and growing demand for cruising. Before the pandemic, global ocean cruise passengers had grown at a 5.5% compound annual rate from 2003 through 2019. The industry had gotten back on a growth trajectory in 2023, with Carnival reporting all-time highs in bookings and customer deposits in the year's second quarter.

You might be among those with an upcoming cruise booked on one of Carnival's brands. That might have you interested in investing in the cruise stock. Here's a step-by-step guide on how to invest in its shares and some things to consider before buying.
How to invest
How to buy Carnival Cruise Lines stock
You need to take a few steps before buying shares in Carnival (or any other stock). Here's a step-by-step guide to adding the cruise stock to your portfolio.
Step 1: Open a brokerage account. First, open and fund a brokerage account before buying shares of any stock. Here are some of the best-rated brokers and trading platforms. Take your time to research the brokers to find the best one for you.
Step 2: Figure out your budget. Before making your first trade, you'll need to determine how much money you want to invest. You'll then want to figure out how to allocate that money. The Motley Fool's investing philosophy recommends building a diversified portfolio of 25 or more stocks you plan to hold for at least five years. You don't have to get there on the first day. For example, if you have $1,000 available to start, you might want to begin by allocating that money equally across at least 10 stocks and then grow from there.
Step 3: Do your research. It's essential to thoroughly research a company before buying its shares. You should learn about how it makes money, its competitors, its balance sheet, and other factors to make sure you have a solid grasp of whether the company can grow value for its shareholders over the long term. Continue reading to learn more about some crucial factors to consider before investing in Carnival's stock.
Step 4: Place an order. Once you've opened and funded a brokerage account, set your investing budget, and researched the stock, it's time to buy shares. The process is relatively simple. Go to your brokerage account's order page and fill out all the relevant information, including:

The number of shares you want to buy, or the amount you want to invest to purchase fractional shares
The stock ticker (CCL for Carnival)
Whether you want to place a limit order or a market order. The Motley Fool recommends using a market order since it guarantees you buy shares immediately at the market price.
Once you complete the order page, click to submit your trade and become a Carnival shareholder.
A shorthand code of letters representing a company's stock for trading purposes, displayed on financial platforms.
Should I invest?
Should I invest in Carnival Cruise Lines?
It's vital to do your research before buying a stock. It could make you decide against buying shares or confirm your thesis. Here are some reasons why you might want to buy shares of Carnival:
You're a fan of cruising and Carnival's brands.
You believe the company will benefit from growing demand for cruising, which will increase its profitability in the long term.
You understand that shares could be volatile as Carnival navigates a recovery in cruising and a potential future recession.
You know the risks of investing in Carnival, including that the company is working toward paying down the boatload of debt it took on to stay afloat during the pandemic.
You don't need dividend income from your investment.
On the other hand, here are some factors to consider that might make you decide that Carnival stock isn't the right investment for your situation:
You aren't all that interested in cruising.
You're close to or in retirement and need dividend income.
You are concerned about the company's balance sheet, which could continue to weigh down its shares.
You're worried about a recession, which could cause shares of Carnival to sink if demand cools off.
Is Carnival profitable?
Is Carnival Cruise Lines profitable?
Profitability is the most critical factor determining whether a company can grow shareholder value over the long term. Typically, a company's stock price rises along with its earnings.Unfortunately, the pandemic has significantly affected Carnival's financial results. As of mid-2023, the cruise line operator had yet to return to profitability. Through the first six months of the year, the company reported a net loss of $563 million, or $3.02 per share. However, that was a significant improvement from the same period of the previous year when it posted a net loss of almost $1.3 billion, or $6.90 per share.While the company hadn't returned to profitability, it produced positive cash flow from operations and adjusted free cash flow during the second quarter of 2023, giving it the funds to pay down debt while financing its capital program to expand and refresh its fleet.

Carnival has undertaken several actions to improve profitability, which it expects to start achieving in the second half of 2023. In addition, it anticipates growing its adjusted free cash flow. That should enable the company to continue paying down debt. Carnival anticipates delivering $8 billion in net debt reduction between 2024 and 2026, helping to reduce its interest expenses and take the pressure off its balance sheet.

Before the pandemic, Carnival was a very profitable company. The company reported $3 billion of adjusted net income in 2019, which matched its previous record high in 2018. The cruise company had a strong track record of earnings growth before the pandemic. While profits plateaued in 2019, they steadily grew in the years before then and had more than doubled their total from 2013. With the company working hard to improve earnings while growing its fleet, it could eventually set a new profitability record.
Does it pay a dividend?
Does Carnival Cruise Lines pay a dividend?
Carnival made dividend payments until early 2020. However, the company suspended its dividend in March 2020 to conserve cash because of the pandemic's impact on its operations. Before that, Carnival and its predecessors had paid quarterly dividends since 2001.

As of mid-2023, Carnival has yet to reinstate a dividend. The company is unlikely to resume paying dividends for the foreseeable future. Its primary focus is on shoring up its balance sheet following the pandemic.
ETFs with exposure
ETFs with exposure to Carnival Cruise Lines
An alternative to investing directly in Carnival by purchasing shares is to consider passively investing in the company through an exchange-traded fund (ETF) that holds shares. According to ETF.com, 141 ETFs held more than 96.7 million shares of the cruise line as of mid-2023.
The SPDR S&P 500 ETF Trust (SPY 0.33%) was the largest holder at nearly 100 million shares. However, the S&P 500 ETF had a tiny allocation at 0.04% of the fund's total holdings, so there are better ways to gain exposure to Carnival.
The Defiance Hotel, Airline, and Cruise ETF (CRUZ 0.9%) had a much more meaningful allocation of Carnival stock. It was the fund's fourth-largest holding at 7% of the total, making it a better means of gaining passive exposure to the cruise ship operator and other travel and tourism stocks.
An exchange-traded fund, or ETF, allows investors to buy many stocks or bonds at once.
Will it split?
Will Carnival Cruise Lines stock split?
Carnival has had two stock splits in its history. It completed two-for-one stock splits on December 14, 1994, and June 12, 1998.
As of mid-2023, Carnival didn't have an upcoming stock split on the calendar. It seems unlikely that the company will split its stock again in the foreseeable future. Shares were down almost 80% from their all-time high before the pandemic due in part to a significant rise in outstanding shares as it issued stock to stay afloat: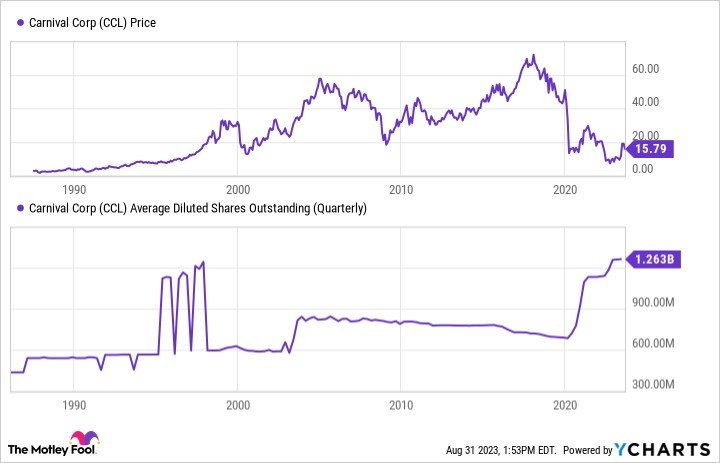 Image source: YCharts.
The bottom line
The bottom line on Carnival Cruise Lines
Carnival hit rough seas during the pandemic, forcing it to take on a boatload of debt and issue lots of stock to stay afloat. These factors caused its share price to sink.
However, the company is righting the ship by reducing its debt and improving profitability. While it likely won't be smooth sailing ahead for the cruise ship company, it's in an excellent position to capitalize on growing demand for travel and could be a compelling long-term investment for those who understand and are comfortable with the risks.
Investing in Carnival Cruise Lines FAQs
Is Carnival Cruise a good stock to buy?
Carnival has many positive catalysts. The leading cruise ship operator is benefiting from the growing demand for cruises. That should enable the company to increase profits and cash flow in the coming years.However, the company is also trying to repay the debt it took on during the pandemic. It will take the company several years to get debt back down to a more comfortable level. That's hindering its ability to grow shareholder value through dividends, share repurchases, and new investments. Shares of Carnival could be very volatile in the future. Although they have lots of upside potential, they also have lots of risk.
Can I buy stock directly from Carnival?
You can buy shares of Carnival directly through any brokerage account. The cruise ship operator trades under the stock ticker CCL.
How much would it cost to buy 100 shares of Carnival stock?
Shares of Carnival stock cost around $15.50 a share in mid-2023. It would cost about $1,550 to buy 100 shares of Carnival stock at that price point. Buying at least 100 shares has a notable shareholder benefit. Shareholders with this many shares can receive an onboard credit of $50 to $250 per stateroom on sailings through July 31, 2024, for reservations made by Feb. 28, 2024.