Disney (DIS -1.11%) is an iconic brand. The company got its start in 1923 by brothers Walt and Roy Disney after a distributor contracted the duo to produce the "Alice Comedies." Originally the Disney Brothers Cartoon Studio, they soon renamed their company Walt Disney Studio.
Over the past century, Disney has grown into a world-class media and entertainment company, boasting an unparalleled portfolio of iconic brands and franchises. The company has two operating segments:
Disney media and entertainment distribution: This segment features the company's TV channels, direct-to-consumer businesses (e.g., Disney+, Hulu, and ESPN+), and content sales and licensing.
Disney parks, experiences, and products: This segment includes the company's global portfolio of parks and experiences, as well as its consumer products.
Disney has invested heavily in recent years to build a leading streaming service in Disney+. It has spent huge amounts on content to increase its subscriber base in hopes of reaching long-term profitability. The company believes the investment will start paying dividends in the coming years.

The profit growth potential of Disney+ could produce big gains for Disney shareholders in the coming years. This upside potential makes Disney a compelling stock for investors to consider.Here's a step-by-step guide on how to buy Disney stock and some things to consider before purchasing shares.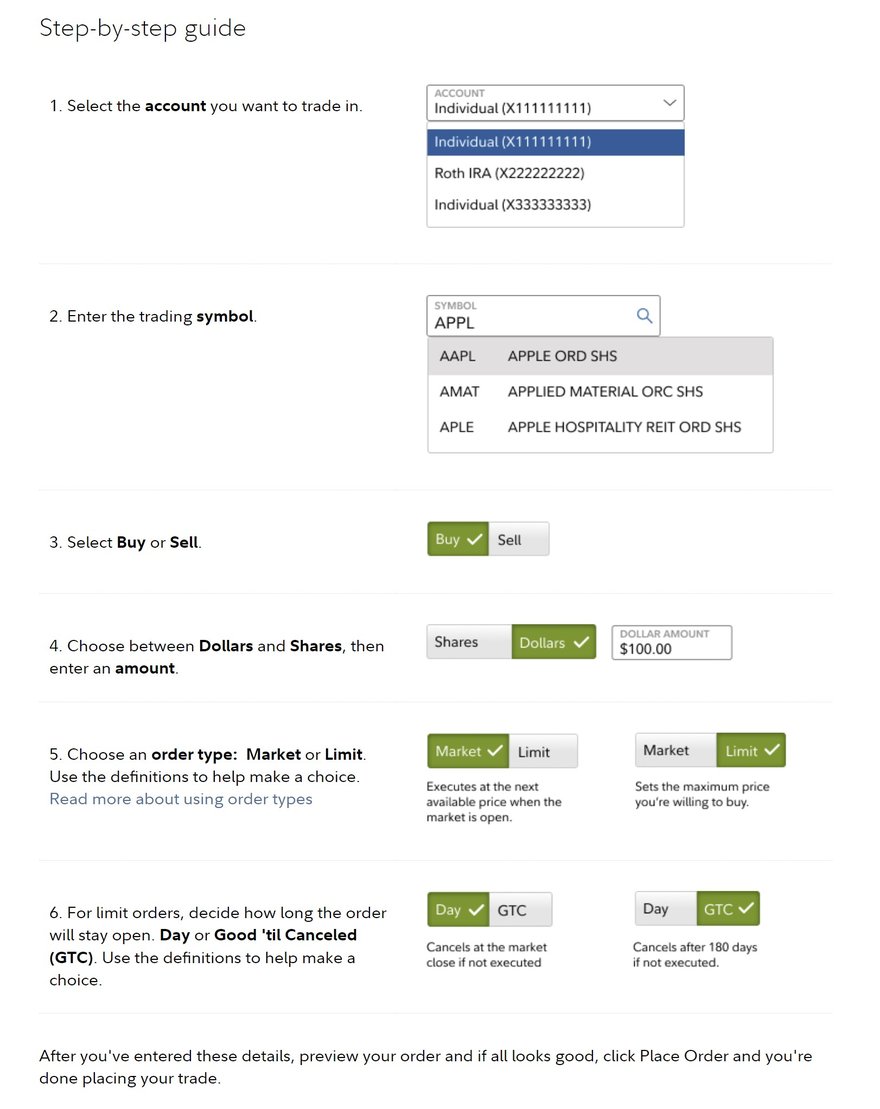 Image source: Fidelity.
On this page, fill out all the relevant information, including:
The number of shares you want to buy or the amount you want to invest to purchase fractional shares.
The ticker symbol (DIS for Disney).
Whether you want to place a limit order or a market order. The Motley Fool recommends using a market order since it guarantees you buy shares immediately at the market price.
Once you complete the order page, click the "Place Order" button at the bottom and become a Disney shareholder.
Should I invest?
Should I invest in Disney?
Before purchasing shares of Disney, you need to determine if you want to invest directly in the company. Here are some reasons why someone would consider buying shares of Disney:
You want to invest in the company behind your favorite brands, characters, or experiences.
You want your kids or grandkids to start investing and think Disney is a company they'd enjoy following.
You believe Disney's investment in streaming will pay off.
You think the company's cost-cutting strategy will improve profitability and boost the stock price.
You don't need to earn dividend income yet, but you would like to collect dividends in the future.
You have confidence that CEO Bob Iger can get Disney back on track.
You understand the risks of owning Disney stock, including the possibility that shares could lose value.
You've thoroughly researched Disney and understand how to make money investing in the stock.
You plan to be a long-term investor and hold your shares through any volatility.
On the other hand, there are some negatives that you'll also want to consider while weighing whether to buy shares, including:
You need the money you plan to use to buy Disney shares to cover an emergency or a major planned purchase over the next three to five years.
You'll eventually need dividend income and are unsure whether Disney's future dividend will be enough to help meet your needs.
Disney's values don't align with yours.
You don't have time to research Disney stock to understand how it makes money and its risks.
You're worried about a potential recession and the impact it could have on Disney's consumer-facing business.
You don't want to follow Disney's business.
There are many positive reasons to buy shares of Disney. The company's investments in streaming and its cost-cutting initiatives could drive profits higher in the future, which could help propel the share price.However, each investor needs to determine if Disney is the right fit for their portfolio based on their personal situation and preferences.
Profitability
Is Disney profitable?
Earnings growth drives stock price appreciation over the longer term. That makes it a good area for beginning investors to focus on before buying shares.Disney is a profitable company. In its 2022 fiscal year, the company generated almost $3.2 billion of net income from continuing operations -- 58% above the company's total in its 2021 fiscal year.However, Disney's profitability remains well below its pre-pandemic peak:
Image source: Statista.
Although some lingering effects from the pandemic have weighed on Disney's earnings, that's not the only issue. The company has also invested heavily in its streaming service Disney+ to expand its content and customer count. The company hopes to achieve profitability from Disney+ by its 2024 fiscal year.Disney also launched a restructuring effort in early 2023 to slash as much as $5.5 billion in annual costs, including $3 billion from content. The move should help bolster the company's profitability, which has weighed on the stock price in recent years: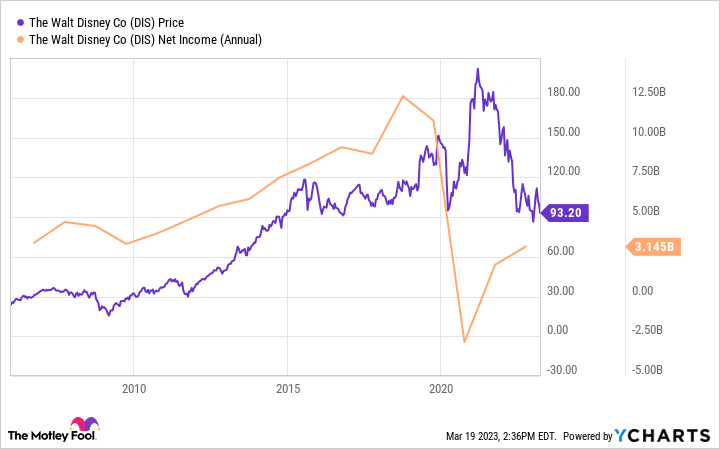 Image source: Ycharts.
If the company's streaming investments and cost-saving initiatives work, Disney's profits should continue improving. That could get the company back on the path toward increasing shareholder value. However, if the company fails to improve profits, shares could continue to falter.
Does Disney pay a dividend?
Does Disney pay a dividend?
As of mid-2023, Disney didn't pay dividends to its shareholders. The company decided to forgo making dividend payments in 2020 due to the pandemic's impact on its operations. The decision allowed Disney to retain additional cash to sustain its operations and invest in growth, including its streaming platform. Before the suspension, Disney had a history of paying a steadily rising dividend.

While Disney doesn't currently pay dividends, it plans to reinstate the shareholder payout by the end of 2023. Iger said in February 2023 that the company plans to start with a "modest" dividend. It plans to increase the dividend payment over time. The phrasing suggests that the reinstated payout will likely be less than the $0.88 per share bi-annual rate the company paid before the pandemic.
ETFs with exposure
ETFs with exposure to Disney
Instead of actively buying shares directly, you also can passively invest in Disney stock with a fund that holds its shares.

Disney is among the larger publicly traded companies by market capitalization. It's a widely held stock. Disney is included in several stock market indexes, including the Dow Jones Industrial Average and S&P 500 index. As a result, index funds and exchange-traded funds (ETFs) that benchmark their returns against those indexes hold Disney stock.

According to ETF Database, 244 ETFs held a reported 126.6 million shares of Disney in mid-2023. The five ETFs holding the most Disney shares are:
Data source: ETF Database.

| Exchange-traded Fund | Assets under management | Tesla shares held | Fund Weighting | Position ranking |
| --- | --- | --- | --- | --- |
| SPDR S&P 500 ETF Trust (NYSEMKT:SPY) | $419.2 billion | 20.8 million | 0.4% | 41st largest |
| iShares Core S&P 500 (NYSEMKT:IVV) | $336.7 billion | 16.5 million | 0.4% | 42nd largest |
| Vanguard S&P 500 ETF (NYSEMKT:VOO) | $325.7 billion | 15.5 million | 0.5% | 41st largest |
| Vanguard Total Stock Market ETF (NYSEMKT:VTI) | $310.7 billion | 13.0 million | 0.4% | 41st largest |
| Vanguard Growth ETF (NYSEMKT:VUG) | $92.7 billion | 8.1 million | 0.8% | 22nd largest |
The SPDR S&P 500 ETF holds the most Disney shares among ETFs. However, it's a small percentage of its overall holdings. Meanwhile, even though the Vanguard Growth ETF has doubled the allocation of Disney stock, it's still a relatively small percentage of the fund's holdings. So the two ETFs are less-than-ideal ways to gain exposure to Disney stock for those who don't want to invest directly in owning shares.
Even the ETF with the largest allocation to Disney stock, Vanguard Communication Services ETF (VOX -0.33%), has a relatively small allocation at 0.9%. Given these weightings, investors who want a meaningful allocation to Disney stock will have to buy shares directly.
An exchange-traded fund, or ETF, allows investors to buy many stocks or bonds at once.
Will Disney stock split?
Will Disney stock split?
As of mid-2023, Disney hadn't announced an upcoming stock split. However, the company has implemented seven stock splits throughout its history:
Data source: Disney.

| Payable Date | Amount | Closing, Pre-Split Price |
| --- | --- | --- |
| July 1998 | 3-for-1 | $111 |
| May 1992 | 4-for-1 | $153 |
| March 1986 | 4-for-1 | $143 |
| June 1973 | 2-for-1 | $215 |
| March 1971 | 2-for-1 | $178 |
| November 1967 | 2-for-1 | $105 |
| August 1956 | 2-for-1 | N/A |
All of Disney's stock splits have occurred when shares topped $100. Due to the impact of the pandemic and its investments in streaming, Disney's stock was below the triple-digit mark in mid-2023. It seems unlikely that Disney will split its stock again anytime soon.
The bottom line
The bottom line on investing in Disney stock
Disney is a brand that's beloved by many. The company's rich storytelling, likable characters, and enjoyable experiences have passed the test of time. Meanwhile, the company's investments in streaming could mean its best days still lie ahead. Disney stock could turn out to be a rewarding long-term investment.Disney could be a great stock to buy and is easy enough to purchase at most brokerages. However, you still need to determine whether you want to own Disney since it might not be the best fit for everyone.
Matthew DiLallo
has positions in Walt Disney. The Motley Fool has positions in and recommends Vanguard Index Funds - Vanguard Growth ETF, Vanguard Index Funds - Vanguard Total Stock Market ETF, Vanguard S&P 500 ETF, and Walt Disney. The Motley Fool has a
disclosure policy
.