If you are looking to diversify your portfolio with a stake in the private securities sector, Forge Global (FRGE 0.3%) might be of interest. This fintech company helps investors buy and sell stocks before an initial public offering (IPO). So, if you're interested in buying and selling shares in private companies, you can use Forge Global's services.
A share of stock represents ownership in a company, entitling holders to a portion of its assets, profits, and voting rights.
But if you simply believe in the idea of providing pre-IPO trading options and want to invest in Forge Global itself, you can do so through your favorite stock brokerage instead.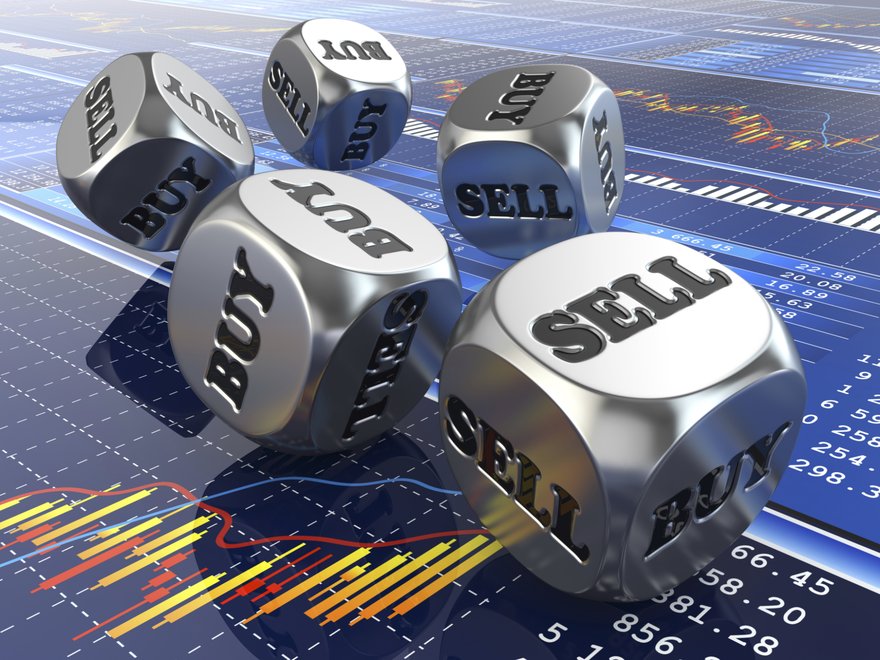 Image source: Getty Images.
Getting to know Forge Global
Getting to know Forge Global
Forge Global operates a platform that facilitates the buying and selling of shares in private companies, connecting investors with private market opportunities. These options are normally unavailable to individual investors, earmarked for insiders and deep-pocketed investment firms instead.

By the midyear report of 2023, Forge Global had facilitated more than $12 billion in transaction volume since its inception, managing shares of more than 500 private companies. This activity makes Forge Global a significant player in the private securities market.
How to buy
How to buy Forge Global stock
Investing in Forge Global follows the same process as other publicly traded stocks: Get a brokerage account, fund it, and place a "buy" order using that cash. Here's a more detailed breakdown using the trading process of popular online brokerage Robinhood (HOOD 4.4%) as an example.
Step 1: Open a brokerage account
You'll need a brokerage account to buy shares in Forge Global. If you don't already have one, consider opening an account with a reputable broker that allows trading in the specific stock. For instance, you could open an account with Robinhood.

It's a multistep process, like opening a new account with any online service. Since brokerages manage some of your money and link up with your bank accounts, there are a few security-oriented steps.
Step 2: Determine your budget
Decide how much you want to invest in Forge Global. It's wise not to invest money you can't afford to lose, and diversifying your investments can help manage risk.

Once you have settled on a reasonable amount, you must make sure your brokerage account holds at least that much money in cash. With Robinhood, you can check your cash balance by clicking the Account link in the top-right corner of any page of the service. Look for a line showing the amount of "brokerage cash" in your account.If you need more cash or haven't funded the account at all, you should click on Transfers in the menu just below your name on the Accounts screen. There, you will find three ways to transfer cash to your Robinhood account.

You can transfer an existing investing account from another brokerage, transfer money from your bank account or debit card via an Automated Clearing House (ACH) transfer, or send a wire transfer. The "pay by check" option is used for sending money from your Robinhood account, not to it.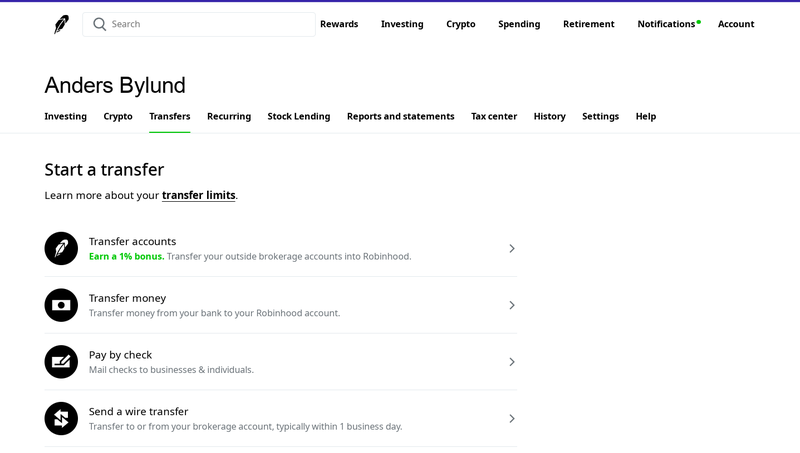 Robinhood.
Step 3: Conduct your research
Research Forge Global to understand its business model, financials, and the risks involved. Look into the company's latest earnings reports, analyst ratings, and news affecting the company.

Compare the company and stock to alternative investments in the same or adjacent target markets. For example, you could compare Forge Global to market makers such as Nasdaq (NDAQ 0.62%) and Cboe Global Markets (OTC:CBOE).

Keep an open mind in this research project. The facts you find should be allowed to change your overall opinion and guide your investing actions. You're not out there looking for justifications for your original idea but rather making sure the stock actually looks like a good idea before putting your cash to work.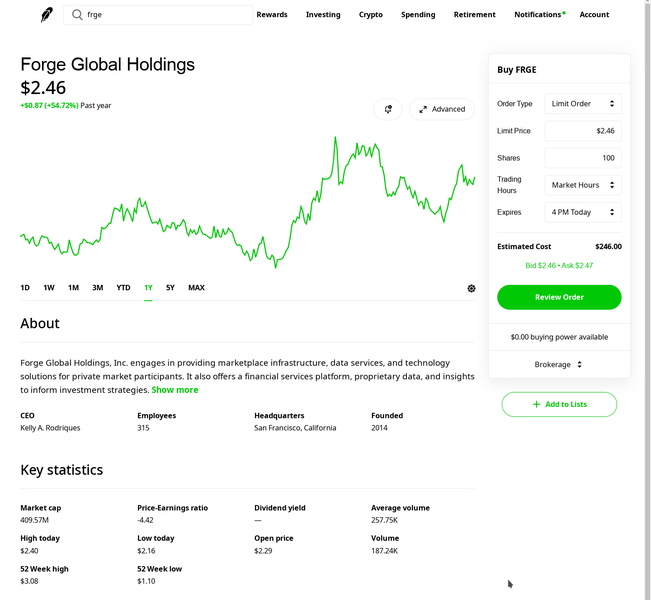 Robinhood.
Step 4: Place your order
Once you've done your research and are ready to buy, log in to your brokerage account and search for Forge Global or FRGE. The page of stock data and charts comes with a trading window simply titled "Buy FRGE."This is where the rubber finally hits the road -- it is time to actually buy some Forge Global stock.First, select your preferred order type. The default "Buy Order" option lets you specify the dollar amount you want to invest in Forge Global. Robinhood's system selects a price based on the current availability of sellers and their lowest asking price, then divides your investment sum by that value to determine the number of shares you'll get.

The system doesn't mind assigning fractional shares to your account, so you will probably end up with decimal points in your share count. This option is extremely convenient but comes with the drawback of not being able to specify the price you're willing to pay per share. You might be stuck with an unreasonable share price due to a low number of sellers.

For stocks with low trading volume (such as this lightly traded microcap), you should consider switching to a limit order instead. Here, you get to specify the highest price you're willing to pay and the number of shares you want to purchase.
You can also elect to execute the trade outside the normal market hours of 9:30 a.m. to 4 p.m. ET and choose whether an unfilled order will expire at the closing bell or 90 days later. Robinhood also shares the highest buying bid and lowest seller ask in the current market as a guide for your limit price.

Other advanced order types exist, but the simple buy order and more sophisticated limit order should cover most of your needs. You might want to set up a recurring investment in your favorite long-term investments at some point. However, those automated transactions will rely on the simple "buy" order and may not be suitable for lightly traded microcaps for that reason.
An order that instructs your broker to buy a stock or other security only at or less than a specific maximum price.
Again, you can use Forge Global's services to invest in private companies -- but you don't need to go that route to buy stock in Forge Global itself.
Should I invest?
Should I invest in Forge Global?
Now you know how to buy shares of Forge Global, but so far, we haven't paid much attention to the stock's value as a long-term investment. Let's dive into the business and its financial results to get a feel for Forge Global's money-making prospects.
Profitability
Is Forge Global profitable?
While Forge Global's exact financial health may evolve over time, the company reported revenue of $69 million with a net loss of $112 million in the 2022 fiscal year. The company had $14.9 billion of assets under management by the end of that year, up from $14.3 billion 12 months earlier.
Trading volume was $1.2 billion, down 62% from the 2021 reading, but the net take rate (the percentage of customer trades Forge Global keeps in the form of fees) held steady at 3.3%. Additionally, 2022 was the year of Forge Global's own IPO. The company entered the public market on March 22, 2022, through a special purpose acquisition company (SPAC) structure.
Dividends
Does Forge Global pay a dividend?
Forge Global has not paid a dividend or approved a dividend payout policy.
An exchange-traded fund, or ETF, allows investors to buy many stocks or bonds at once.
ETF options
ETFs with exposure to Forge Global
As of October 2023, Forge Global stock was a component of 17 ETFs. Here are a few of the largest ETFs with Forge Global holdings, as well as the ETF with the most substantial Forge Global investment as a percentage of the fund's total assets.
Data collected from Yahoo Finance and ETF.com on Oct. 26, 2023. ETF = exchange-traded fund.

| Exchange-Traded Fund | Number of Forge Global Shares Under Management | ETF's Net Asset Value | % Allocation of Forge Global Stock |
| --- | --- | --- | --- |
| iShares Micro-Cap ETF (NYSEMKT:IWC) | 242,000 | $792 million | 0.08% |
| iShares Russell 2000 ETF (NYSEMKT:IWM) | 2.52 million | $52.1 billion | 0.01% |
| iShares Russell 2000 Value ETF (NYSEMKT:IWN) | 1.02 million | $10.4 billion | 0.03% |
| Vanguard Total Stock Market Index Fund (NYSEMKT:VTI) | 728,080 | $1.3 trillion | 0.00% |
These funds can give you some exposure to Forge Global's stock as part of a diversified strategy. It should be said, however, that this stock won't move the needle very far for any of the listed ETFs since the largest commitment is less than 0.1% of the iShares Micro-Cap ETF's holdings.
Stock splits
Will Forge Global's stock split?
Trading at low-single-digit share prices, Forge Global is not likely to execute a standard stock split in the foreseeable future. If the price stays below $4 per share for too long, it will breach the New York Stock Exchange's listing requirements.
In that case, a reverse split could get Forge Global's stock back in the stock exchange's good graces again. That is an option of last resort, though. Ideally, Forge Global would get out of that bind by reporting good business results that support a share price of at least $4.
Is Forge Global a good investment?
It's essential to consider various factors when assessing Forge Global's investment potential. The company has been making strides in its sector, with a growing transaction volume indicating a potentially increasing market share.

Taking the SPAC route to market in a bearish year like the inflation-laden 2022 resulted in a volatile first-year stock chart. Forge Global's market value rose as high as $6.4 billion in the first few weeks but sank as low as $229 million in the fall.

This is still a small-cap stock in late 2023. It may not be entirely fair to measure Forge Global's long-term worth quite yet since the global economy still struggles with inflation pressure as of this writing. As such, investor interest in pre-IPO stocks is running low.

Adventurous investors may see Forge Global as a potential turnaround story, in which case it makes sense to grab shares at a low price of entry. However, that idea comes with significant risk because Forge Global might fail to execute a complete recovery.
Investing in Forge Global FAQs
Is Forge Global publicly traded?
Yes. Forge Global trades on the New York Stock Exchange under the stock ticker FRGE.
What is the minimum investment in Forge Global?
That depends on your stock broker's minimum trade requirements. Most brokers allow fractional trades, so the minimum investment in Forge Global is, effectively, a penny. If your broker doesn't support fractional trades, the minimum investment should be a single share, worth about $2.50 in late October 2023.
Is Forge Global a good investment?
Forge Global is a complex business with many challenges and opportunities ahead of it. It is impossible to say for sure whether the stock will recover from its early doldrums or how far it might climb in the long run. Prospective investors should read up on Forge Global's financial results, the potential long-term size of its target market, and other factors that affect the stock's fair value.
Is Forge Global a safe investment?
Forge Global's shares trade on the gold-standard New York Stock Exchange and have passed the market's quality tests to earn that listing. That said, interest in IPOs and pre-IPO stocks dried up in 2022 due to a struggling global economy, and Forge Global's financial results suffered as a result.This stock may look promising, but it comes with a generous serving of market risk. If you take the plunge, it's probably best to keep your Forge Global investment fairly small, as you should with any speculative stock.
Anders Bylund
has no position in any of the stocks mentioned. The Motley Fool has positions in and recommends Vanguard Index Funds - Vanguard Total Stock Market ETF and iShares Trust - iShares Micro-Cap ETF. The Motley Fool recommends Nasdaq. The Motley Fool has a
disclosure policy
.