Investing in Intuitive Surgical (ISRG 0.87%) means buying into the global leader in robotic-assisted minimally invasive surgical technology. The company's da Vinci Surgical Systems are installed worldwide and help surgeons with over 70 clinical uses.
While the systems naturally attract attention, the company generates more than 70% of its revenue from instruments, accessories, and services sold for the da Vinci systems. As such, the company has a long-term, highly profitable recurring revenue stream that will generate earnings and cash flow for many years, making it a highly attractive company.Here's a guide on how to buy Intuitive Surgical stock and the factors to consider before investing in it.
How to buy
How to buy Intuitive Surgical Stock
The company is listed on the NASDAQ exchange (Intuitive's ticker is ISRG) and has an average daily volume of shares traded of around 1.8 million. At the time of writing, the stock has a market cap of $108.1 billion. It's a highly liquid stock that investors can buy from a reputable broker.
A shorthand code of letters representing a company's stock for trading purposes, displayed on financial platforms.
In case you're investing in stocks for the first time, the process for buying Intuitive Surgical stock (or any other publicly listed stock) is as follows:
Open and fund a brokerage account with a reputable financial institution.
Do your own research on the stock. This involves using resources such as The Motley Fool to understand the risk/reward proposition for the stock to see whether it fits your risk profile.
Work out a budget and determine how much you want to invest in the stock or, potentially, a portfolio with Intuitive Surgical in it. For example, in setting a budget, you might decide to hold Intuitive Surgical as part of a diversified portfolio to spread stock-specific risk across several holdings. You might also decide whether to make a one-off investment in a portfolio or drip-feed money into your portfolio over time.
Place an order for the number of shares you want to buy. Once you do so, you'll become an Intuitive Surgical shareholder.
An individual or entity that owns a portion of a company's stock, entitling them to a share of its profits and assets.
Should I invest?
Should I invest in Intuitive Surgical stock?
Intuitive Surgical is what investors call a growth stock. The distinction between a growth stock and a value stock is somewhat arbitrary. You should only buy a value stock if it offers some growth, and you should only buy a growth stock if it offers value. That said, it's fair to say relatively more of the value in a growth stock comes from its future earnings and cash-flow streams.

Intuitive Surgical doesn't pay dividends, so it's definitely not a stock for income-seeking investors. It's also not a stock for investors seeking the kind of stellar returns (and stellar risk) on offer at speculative early-stage technology companies.

Instead, it's a well-established company with a dominant market position, real earnings, and excellent long-term growth prospects. The company isn't going to disappear overnight. However, every stock has risk, and Intuitive Surgical's risk lies in the possibility that its future growth might not live up to the expectations baked into its lofty valuation.On that note, let's look at the company's substantive growth potential. For Intuitive Surgical, that means growing the number of da Vinci Surgical Systems installed worldwide and ramping sales of its instruments, accessories, and services.To understand how this model works, consider that a da Vinci system's average selling price ranges from $500,000 to $2.5 million. The company placed a total of 1,264 new units in 2022, and as of June 2023, more than 8,000 systems are in place worldwide.
For every surgical procedure performed using a da Vinci system, $600 to $3,500 in instruments and accessories revenue is generated and Intuitive Surgical generates $80,000 to $190,000 a year in services revenue. With these figures in mind, it's worth noting:
Every new da Vinci system in place adds $80,000 to $190,000 in yearly services revenue.
Every new system in place creates an opportunity for more surgical procedures and more instruments and accessories revenue.
Instruments and accessories revenue can grow by an increased number of procedures per system and an expansion in clinical uses (implying more procedures).
The key takeaway is that the company's long-term growth prospects aren't just about new unit placements; the company can also grow its instruments and accessories revenue per system. A revenue breakout for 2022 helps illustrate the importance of each revenue stream.
Data source: company presentations.
A few ways the company can increase da Vinci Surgical Systems sales include:
Pursuing geographical expansion, including growing system sales outside its core U.S. market
Offering more leasing agreements to encourage new hospitals/surgical centers to take equipment under operating leases rather than buy systems outright
Continuing to release new models to encourage a trade-in cycle
Improving the quality and availability of learning and training pathways to encourage potential system users to feel confident that they will be able to quickly and effectively use the da Vinci system
Increasing the types of clinical applications (surgical procedures) to make buying equipment more cost-effective for customers
The company is making progress on these aims. For example, new unit placements outside the U.S. grew from 336 to 572 from 2020 to 2022, compared to U.S. placements, which grew from 600 to 692 over the same period. Meanwhile, the share of new unit placements under operating leases increased from 34% in 2020 to 39% in 2022.The share on new unit placements from trade-ins will bounce around based on the timing of new product releases. Still, trade-ins represented 37% of new units sold from 2020 to 2022, demonstrating the importance of developing new products to drive sales.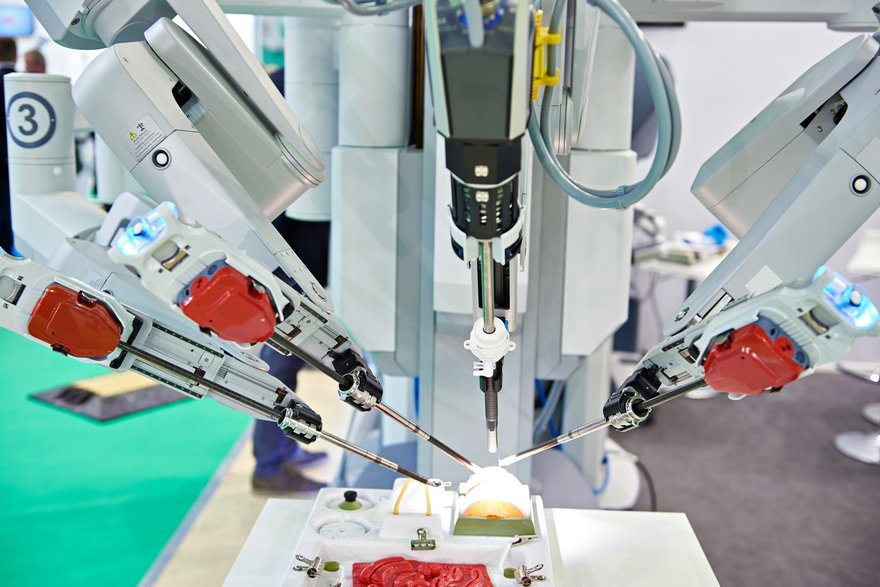 Image source: Getty Images.
Profitability
Is Intuitive Surgical profitable?
Intuitive Surgical is a profitable healthcare company with an operating income of $1.6 billion in 2022. With its growing base of da Vinci systems, services revenue, and increasing recurring revenue, it's highly likely to grow sales and earnings for many years.

But the question is not so much about whether it's a profitable company or whether it can grow earnings. Instead, it comes down to how much valuation you're willing to pay for the company's future earnings. I'll come back to this point in the conclusion.The company's non-recurring revenue generates the bulk of its profits and is the key to its future earnings. The good news is that it's growing as a share of total revenue (from 70% in 2015 to 79% in 2022), indicating strong demand for the use of its systems in procedures.An aging patient population could lead to excess growth in procedures. That its robotic-assisted technology makes procedures less invasive and more secure could also encourage growth in procedures.For example, if a procedure is more cost-effective using a da Vinci system, it will influence more surgical centers to perform them. Similarly, if the da Vinci system makes procedures more secure, patients/surgeons will feel more comfortable undertaking them. Moreover, an increase in surgeons' productivity due to using robotic-assisted technology will result in the ability to carry out more procedures.In addition, less invasive procedures will result in better outcomes and potentially less cost. Patients may seek out centers with the da Vinci system in place and avoid traditional procedures -- an added incentive for centers to use the system.
These arguments speak to the potential for Intuitive Surgical to grow procedures used under da Vinci. The company focuses on five key surgical specialties, namely:
General surgery, including hernias, colorectal, and bariatric surgery
Urologic surgery, including the fast-growing prostatectomy (surgery with a high average age) market
Gynecologic surgery, including hysterectomies
Cardiothoracic surgery
Head and neck surgery
Management believes "there are numerous additional applications that can be addressed with the da Vinci Surgical System," and the growth in applications (currently standing at more than 70) is something for investors to look out for. The company has established the market for robotic-assisted surgery, has strong relationships with surgeons, and develops its solutions in consultation with them.Moreover, it's an industry with high barriers to entry. It requires significant capital investment and know-how, alongside passing clinical trials and receiving regulatory approval for a product whose safety and efficacy are paramount. Intuitive also holds more than 4,300 patents for its technology, with another 2,100 patents pending worldwide.Training surgeons to use and be comfortable with the da Vinci system also takes time and effort. That makes it harder for them to switch to a new system should one become available.
Dividends
Does Intuitive Surgical pay a dividend?
As a company focused on growth, it doesn't pay dividends and is unlikely to do so for the foreseeable future.
ETF options
ETFs with exposure to Intuitive Surgical
Intuitive Surgical stock is widely held by asset managers, including Vanguard Group, BlackRock (BLK 1.58%), T. Rowe Price (TROW 2.23%), and State Street (STT 2.31%), all of which held more than $5 billion worth of stock at the end of the second quarter of 2023. It's also a relatively small holding in Cathie Wood's ARK Autonomous Technology and Robotics ETF ($11.5 million as of early September 2023).
An exchange-traded fund, or ETF, allows investors to buy many stocks or bonds at once.
The company's exposure to healthcare and robotics makes it a favorite of medical- and technology-focused investors. For example, Intuitive Surgical is the third-largest holding in the iShares U.S. Medical Devices ETF and the second-largest in the Global X Robotics & Artificial Intelligence ETF.
Stock splits
Will Intuitive Surgical stock split?
Management has already initiated three stock splits along the way. There was a 1:2 stock split in 2003 when the price was less than $2 a share, followed by a 3:1 split in the summer of 2017 and another 3:1 split in May 2021. The last two splits were driven by the spectacular rise in the stock price over the previous few decades (up 22,400% since the start of 2003).

Given that the stock price stood at around $275 a share as of late 2023, management could go for another stock split, given a significant appreciation in the share price.
The bottom line on Intuitive Surgical stock
With an overwhelming first-mover market position and a robust business moat, there's no doubt Intuitive Surgical will grow earnings for many years to come. It continues to grow system placements at a double-digit pace, and the outlook for surgical and da Vinci procedures is good.An aging population and its technology's safety and efficacy advantages will likely accelerate growth in da Vinci procedures, which means more lucrative instruments and accessories down the line. Furthermore, management is being astute by encouraging growth in operating leases to boost recurring revenue, and developing new products will encourage trade-ins.

Where the U.S. leads in healthcare and medical devices, the globe tends to follow, and system placements look set for long-term growth outside the U.S. There's a lot to like about the company, and that's why the market is willing to pay a premium for its stock -- it traded on 77 times its current earnings as of September 2023.

While that valuation may appear high, buying into high-quality growth stocks rarely comes with a valuation many investors would feel comfortable with. Even if you aren't comfortable with the current valuation, this is definitely a stock to keep on a watchlist to pick up on some market-led weakness.
Investing in Intuitive Surgical FAQs
Is Intuitive Surgical a public company?
Yes. It's a publicly listed company trading on the Nasdaq exchange with the ticker ISRG.
Is Intuitive Surgical a good stock to buy?
Intuitive Surgical is a stock that will suit investors looking for a high-quality growth stock and who are confident in the long-term prospects.
Lee Samaha
has no position in any of the stocks mentioned. The Motley Fool has positions in and recommends Intuitive Surgical. The Motley Fool recommends T. Rowe Price Group. The Motley Fool has a
disclosure policy
.