An investor wanting to bet on streaming needs to know how to invest in Netflix (NFLX -0.61%) stock. Netflix is the largest player in the streaming industry today despite a major increase in competition. The company has maintained its market-leading position by constantly evolving.
Netflix started out as a DVD rental service when it was founded in 1997. The company would mail a customer several DVDs, and the customer would pop them back in the mailbox when they were done. The video rental industry was upended by this innovative business model. Blockbuster, a video rental chain that once had thousands of locations, was unable to adapt to meet the new competition and ultimately failed.Netflix added streaming to its service in 2007, although it initially came with strict limits and a lackluster content selection. The company eventually went all-in on streaming, recognizing that the DVD rental business was not the future. By the start of 2013, the company had roughly 34 million paying members.

Netflix pivoted yet again in the early 2010s, betting that its initial strategy of licensing content for streaming would not gain it a durable competitive advantage. The company began producing its own content, spending huge sums to bring original shows and movies to its streaming service. Combined with a vast expansion to international markets, the strategy has helped Netflix surpass 230 million paying subscribers.
Market share is the percentage of total revenue that a product, service, or company accounts for in a category.
More recently, Netflix did a 180-degree turn in response to slowing subscriber growth and embraced advertising after being strongly opposed to ad-supported plans for years. The company rapidly rolled out an inexpensive $6.99 monthly ad-supported plan, and early results are positive. Ad revenue could potentially accelerate Netflix's growth as it wins more price-sensitive customers.

Netflix now offers an overwhelming array of content, although it's not exactly known for a consistent level of quality. Still, the company has held onto its lead in the streaming business even as media juggernauts Disney (NASDAQ:DIS) and Warner Bros. Discovery (WBD 1.41%) have bet big on their own streaming services.

Here's a step-by-step guide on how to buy shares of Netflix, as well as some information to help determine if Netflix stock is a good investment.
How to buy
How to buy Netflix stock
Since Netflix is a publicly traded company, you can buy shares of Netflix in any brokerage account. If you don't have a brokerage account, there are plenty of top-rated brokers and trading platforms to consider. Here's a step-by-step guide to buying Netflix stock using Charles Schwab.

To get started, log into your Schwab account. On the top of the screen, click the "Trade" tab, then click "Stocks & ETFs."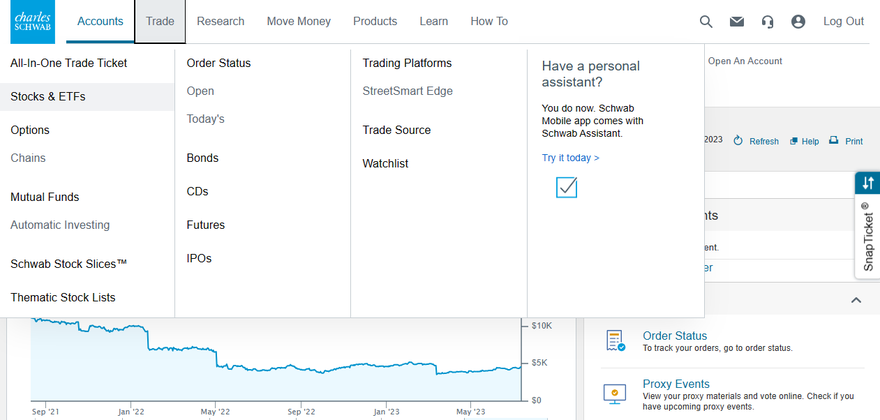 Image source: Schwab.
This will bring up Schwab's All-In-One Trade Ticket. Enter Netflix's ticker, NFLX, in the "Symbol" box, select "Buy" as the action, and enter the number of shares you'd like to purchase. You also need to select whether you'd like to place a limit order or a market order. If you choose the former, you'll need to specify the limit pricing and the period after which the order expires.

Image source: Schwab.
Once you've filled in the details, click the "Review Order" button. Make sure all the information is correct, then hit the "Place Order" button. If you choose a market order, your purchase should be executed immediately at the current market price.
Should I invest?
Should I invest in Netflix?
There are plenty of good reasons to invest in Netflix stock:
You want to bet on the streaming industry and its continued market share gains from linear TV.
You believe that Netflix will be able to maintain its dominance even as competitors invest heavily in streaming platforms of their own.
You want to invest in a company with a history of quickly and boldly adapting to changing market conditions.
You think Netflix's original content gives it a competitive advantage.
You believe that Netflix still has plenty of room to grow as it expands in international markets.
You see long-term growth opportunities beyond streaming, like the company's slow push into the video gaming market.
Although Netflix stock looks like a promising long-term investment, it's important to remember that investing in individual stocks is risky. Any number of things could go wrong for Netflix, and the stock could suffer as a result.

Potential Netflix investors also need to consider the valuation. Netflix is valued at almost $200 billion as of July 12, 2023, which puts the price-to-earnings ratio based on 2022 figures at about 45. The S&P 500 trades at a P/E ratio of around 25, so Netflix stock is priced at a hefty premium. This valuation implies that investors are betting that Netflix can rapidly grow earnings over the next few years, something that is far from a guarantee.
The P/E ratio, or price-to-earnings ratio, is a metric that compares a company's net income to its stock price.
Profitability
Is Netflix profitable?
Netflix is profitable on both a net income and free cash flow basis, although its profitability has been inconsistent. Streaming is a capital-intensive business, requiring many billions of dollars in content spending each year just to keep existing subscribers happy.
Netflix produced net income of $4.49 billion in 2022 on $31.62 billion of revenue. While revenue grew slightly from 2021, net income was down 12% as costs rose. Netflix also produced free cash flow of $1.62 billion in 2022. This was up from a small free-cash-flow loss in the previous year. Free cash flow can make big swings year to year due to the timing of content investments.
Netflix had a gross margin of about 39% in 2022. The company spent more than $2.5 billion on marketing, $2.7 billion on technology and development to support its streaming platform, and $1.6 billion on general and administrative costs. Although Netflix has about $6 billion of cash and short-term investments on hand, it also has considerable debt. Long-term debt totaled $14.4 billion at the end of 2022, on which the company paid $706 million in interest.
Revenue is a business's gross income or the amount of money it brings in from regular operations before costs are considered.
Dividends
Does Netflix pay a dividend?
Netflix does not pay a dividend to its shareholders. While Netflix is profitable and producing plenty of free cash flow today, that hasn't always been the case. The company's decade-long original content push was an expensive endeavor that took time to pay off.

Starting in 2015, Netflix started investing so heavily in original content that free cash flow nosedived deep into negative territory. Right before the pandemic, free cash flow was running at an annual loss of about $3 billion. There was simply no money for a dividend as Netflix bet the farm on its original content strategy.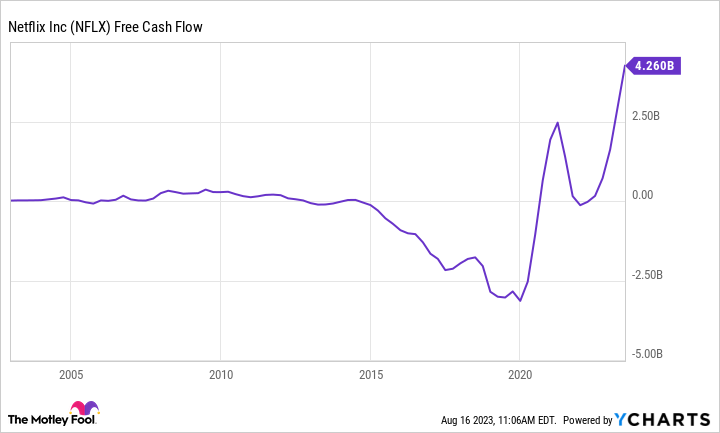 Image source: YCharts.
A surge in subscribers during the pandemic and a leveling-off of content spending has since pushed free cash flow positive. While Netflix could certainly afford to pay a dividend, such a move looks unlikely anytime soon. Netflix has a lot of competition to contend with, and growth has been harder to come by in the post-pandemic period. The company will likely continue to prioritize investing in content and growth instead of paying dividends to shareholders.
ETF Options
ETFs with exposure to Netflix
Buying shares of any individual stock can be risky. One way for investors to invest in Netflix stock with less risk is to buy an exchange-traded fund (ETF) that holds shares of Netflix.
Netflix is a member of a variety of stock market indexes, including the S&P 500 index and the NASDAQ Composite. Any ETF that tracks those indexes will necessarily own some shares of Netflix. The largest ETFs that own Netflix stock include Invesco QQQ Trust (NYSEMKT:QQQ), SPDR S&P 500 ETF Trust (SPY 0.39%), and iShares Core S&P 500 ETF (IVV 0.42%).
Netflix is also held by more specialized ETFs, including iShares MSCI USA Momentum Factor ETF (MTUM 0.21%) and First Trust Dow Jones Internet Index Fund (FDN 1.34%). Although these specialized ETFs generally have higher fees than ETFs that track the major indexes, they're more heavily exposed to Netflix stock. For investors who aren't quite willing to buy Netflix stock directly but don't like the meager allocation Netflix receives in index-tracking ETFs, these specialized ETFs are a good option.
In the financial world, a quarter refers to a three-month period used for reporting and recording financial performance, typically representing one-fourth of a company's fiscal year.
Stock Splits
Will Netflix stock split?
Netflix has split its stock twice. The first stock split came in 2004, just a couple of years after the company went public. The second split came in 2015.
While Netflix hasn't announced any additional stock splits, it's certainly possible the company could announce a third stock split down the road. Shares of Netflix traded above $400 in mid-2013, making them less accessible for investors with small amounts of money to invest. The ability to buy fractional shares, which allow investors to buy less than a single share, makes this less of an issue and perhaps makes it less likely that Netflix will feel the need to split its stock again.
The bottom line on Netflix
Netflix has a decades-long track record of reinventing itself in a rapidly changing media industry. The company isn't afraid to make massive investments if the long-term payoff makes sense. Following a pandemic-era surge in subscriber growth, Netflix is solidly profitable and at the top of its game in terms of producing original content. While competition will put pressure on Netflix, the stock is a great way to bet on the future of the streaming industry.
Investing in Netflix FAQs
Is it possible to invest in Netflix?
Yes. Netflix is a publicly traded company, so Netflix stock can be bought using any brokerage account.
Is Netflix a good investment?
There are pros and cons to investing in Netflix stock. The company is the market leader in the streaming industry and is solidly profitable. However, the stock is expensive relative to earnings, and the company faces increasing competition.
What if I had invested $1,000 in Netflix 10 years ago?
Netflix stock has gained about 1,100% over the 10-year period ending on July 12, 2023, so your $1,000 investment would have turned into roughly $11,000.
Timothy Green
has positions in Warner Bros. Discovery. The Motley Fool has positions in and recommends Netflix and Warner Bros. Discovery. The Motley Fool has a
disclosure policy
.