Investors naturally want to know everything about Neuralink stock because it's a headline-grabbing startup founded by Elon Musk. This medical device company specializes in brain-computer interface technology that potentially has far-reaching applications.

A brain-computer interface device is physically inserted into the brain to read signals and make them available for computers -- that is called "electrophysiological recording" in the trade. The technology isn't new, and multiple companies have performed human trials in the past with varying degrees of success. That said, Neuralink's design decisions could advance the technology.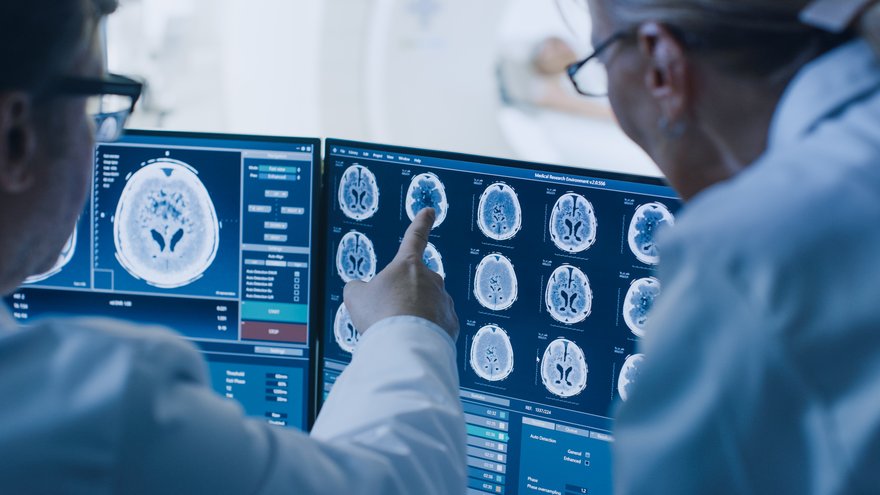 Image source: Getty Images.
Neuralink's medical device is called the N1. The N1 has more than 1,000 electrodes attached to 64 threads, which amplifies its brain-reading potential. For perspective, trials from other players often had just hundreds of electrodes. Neuralink's threads also are flexible, accommodating the constant movements of the brain.

Equally vital is Neuralink's surgical device, the R1 Robot. The N1 threads are thinner than human hairs, so they can't be inserted by hand. But Neuralink's R1 device can target specific parts of the brain and insert all 64 threads in only about 15 minutes, according to the company.

According to Musk, Neuralink initially aims to restore mobility in people with paraplegia, and it aims to restore vision in the sight-impaired. In short, this could be a medical breakthrough that benefits millions of people.
Is it public?
Is Neuralink publicly traded?
Neuralink is not publicly traded because it hasn't gone public yet. When businesses go public, they offer shares to retail investors on stock exchanges either through an initial public offering (IPO) or a direct listing. But Neuralink hasn't done either as of this writing.

To be clear, private companies like Neuralink can still have a share structure. Founders, insiders, and private investors can all own pieces of the business, and this is true of Neuralink as well. The difference is that shares of Neuralink aren't available for the general public to trade; the shares of public companies can be traded.

Neuralink completed its latest funding round in August 2023. The company raised $280 million from private investors. These private investors now own shares of Neuralink, although Musk, as the founder, is still believed to be the largest shareholder.Occasionally, these Neuralink shares trade hands in private transactions. However, only accredited investors can participate in these trades.
IPO (Initial Public Offering) is the first sale of stock by a private company to the public, making it a publicly traded entity.
When is the IPO?
When will Neuralink IPO?
There haven't been any formal announcements regarding the timing of a Neuralink IPO as of October 2023, so it's not on the IPO calendar. But I believe it's fair to assume that it won't go public anytime soon.

For evidence, consider another private company owned by Musk: SpaceX. According to estimates, SpaceX is now valued at more than $100 billion, and Musk still has no plans to take it public. By comparison, Neuralink is much smaller, reportedly valued at roughly $2 billion as of its latest funding round.

Given the size disparity, SpaceX would logically go public before Neuralink. And since there still aren't plans to take SpaceX public, it feels safe to assume there are no plans yet with Neuralink either.There are rumors that SpaceX might spin out its satellite internet business, Starlink, in an IPO. But even a Starlink IPO isn't expected before 2025. This again suggests a potential Neuralink IPO is still years away, at least.

When Neuralink does decide to finally go public, it won't come as a total surprise. IPO stocks file paperwork with the Securities and Exchange Commission (SEC) before offering shares to the public, so investors will be aware of any Neuralink IPO beforehand.
How to buy
How to buy Neuralink stock
As mentioned, regular investors can't buy Neuralink stock until it goes public. But here are some ideas for those desperate to invest in this medical startup.
1. Invest in Alphabet stock
Buying shares of tech titan Alphabet (GOOG -2.02%)(GOOGL -1.96%) may be the best indirect way to invest in Neuralink. The company has its own venture capital arm called Google Ventures, which is an early investor in Neuralink.

Given its stake in the startup, Neuralink technically comprises a part of Alphabet. That said, it's a minuscule stake compared to the overall size of Alphabet's business.
2. Invest in Tesla stock
Getting a stake in Neuralink by investing in Tesla (TSLA -1.36%) stock is an immensely speculative long shot, at best. In 2022, an analyst asked Musk if he would ever consider lumping all of his companies, including Tesla and Neuralink, into one publicly traded entity. Although Musk said he was unsure, he also said he saw no reason to combine the companies soon.

It seems incredibly unlikely that Neuralink and Tesla would ever be housed under one parent company. But Musk didn't completely rule it out when directly asked.
3. Just wait for Neuralink stock
As can be seen, investing in Neuralink stock is basically impossible at this stage of the game. But for investors who still desire to invest directly in Neuralink, the last option is simply to set money aside now and wait for a future IPO.Investors who choose this option will need to decide how much money to set aside for a Neuralink IPO. But investors shouldn't decide this before considering the opportunity cost of waiting for an unknown length of time -- their money would likely earn better returns elsewhere in the market. Considering the IPO could still be years away (or may never come), it's probably best to set aside only a small amount of cash.
Opportunity cost refers to what you miss out on by going with one option over another comparable option.
Buying stocks step-by-step
To buy Alphabet, Tesla, a future Neuralink IPO, or any IPO stock for that matter, investors will need to follow a few steps.

First, investors need a brokerage account to buy and sell stocks. Fortunately, this step is pretty easy. There are many convenient online brokerages with minimal account requirements and zero fees. Fidelity is a good option for many investors, but there are other quality brokerages as well.

Second, investors need to know their budgets for investing in stocks. This is an individual exercise, and there's no right answer. But one basic principle is to not invest any money that one might need within the next few years in the stock market -- returns are volatile. Another principle is to not invest too much of the overall budget into a single stock -- building a diversified portfolio is safer.

Third, investors must research the stocks that they want to buy. For example, if someone buys Alphabet stock to get indirect exposure to Neuralink, there are other, more consequential pieces of that company to consider. And if the larger parts of Alphabet's business falter, it likely won't be a good investment, even if Neuralink is a runaway success story.

Finally, after investors have adequately walked through the first three steps, they're ready to place their order. Every online brokerage is different. But investors can simply navigate to the trading portion of the platform, type in the stock symbol, and type in either how much money they want to invest or how many shares they want to buy.
Profitability
Is Neuralink profitable?
Neuralink is a private company, and its financials aren't publicly available. That said, it's very safe to assume that the company is not profitable.

Losses are common among medical device startup companies. These businesses have to build out the technology and demonstrate its effectiveness before commercialization can even begin. It's a stage in which medical device companies like Neuralink are spending tons of money on research and development as well as sales and marketing. And during this phase, the company has almost no revenue because it has few (if any) customers.

In September 2023, Neuralink was approved for human trials by the FDA. It will likely be many years from the start of these trials until the business is profitable.
Should you invest?
Should I invest in Neuralink?
Investment decisions are personal. But it can be OK to invest in a speculative company like Neuralink. Indeed, the company is promising to solve enormous problems, and big ideas like this can often lead to game-changing investment gains.However, more often than not, speculative investment ideas don't work out and lead to big losses. Sometimes, speculative companies even go out of business entirely, leaving investors with nothing.

Neuralink isn't public yet. But if it goes public, investors will need to recognize how risky it would be to invest at this stage of its business.
An exchange-traded fund, or ETF, allows investors to buy many stocks or bonds at once.
ETFs
ETFs with exposure to Neuralink
I'm unaware of any exchange-traded funds (ETFs) that have direct exposure to Neuralink. That said, Neuralink is advancing robotic surgery. And while there isn't time to discuss the topic here, founder Musk has said the company's long-term goal is to reduce risk from artificial intelligence (AI).

For investors interested in Neuralink stock because they like the themes of robotic surgery and AI, The Global X Robotics & Artificial Intelligence ETF (BOTZ -1.15%) may be one to consider. Top stocks in this ETF include Nvidia (NVDA -2.68%) and Intuitive Surgical (ISRG -1.07%).

This is just speculation. But if Neuralink really can restore mobility and vision, then other players in this field would likely emerge focusing on different problems. Consider that prominent billionaires Jeff Bezos and Bill Gates have both invested in Synchron, a Neuralink peer.A company like Intuitive Surgical, for example, may eventually be in a position to benefit from new trends pushed forward by advances in brain-computer interface technology. But that's likely still years away.
The bottom line on Neuralink
Neuralink believes it can restore lost mobility and vision through its brain-computer interface technology. These are big issues that could potentially make Neuralink a big business in the future. However, for now, the company isn't public, so investors can't buy stock. And even if it was public, it would still be a speculative investment opportunity, and shareholders would need a healthy appreciation of risk.
Investing in Neuralink FAQs
Is it possible to buy Neuralink stock?
No, it's not possible for retail investors to directly buy Neuralink stock because it's not a public company.
How much does Neuralink stock cost?
Until Neuralink becomes a public company, there's no way to know how much the stock will cost.
What is the stock symbol for Neuralink?
Neuralink still doesn't have a stock symbol because the company has not gone public yet.
Suzanne Frey, an executive at Alphabet, is a member of The Motley Fool's board of directors.
Jon Quast
has no position in any of the stocks mentioned. The Motley Fool has positions in and recommends Alphabet, Intuitive Surgical, Nvidia, and Tesla. The Motley Fool has a
disclosure policy
.