QuantumScape (QS 1.32%) is a leading developer of solid-state battery technology for electric vehicles. With the rising global demand for electric vehicles, there's an opportunity for investors to capitalize by buying shares in companies that are or could become key suppliers to multiple different manufacturers. That way, no matter which automaker proves popular with consumers, the supplier you invest in could benefit from the secular growth trend in EVs.

Solid-state batteries have the potential to be an absolute game changer in electric vehicles. And considering QuantumScape is a leading developer of the technology, investors are rightfully interested in getting a stake in the company.Fortunately, QuantumScape is a publicly traded stock. So investing in QuantumScape stock is pretty straightforward.
A stock represents an ownership interest in a business. When a business wants to raise money, its board of directors determines the number of shares to issue.
How to buy
How to buy QuantumScape stock
If you've ever bought stock before, buying shares in QuantumScape stock is no different from investing in stocks of other companies.

But if this will be your first time investing in the stock market, here's a step-by-step guide to help you invest in QuantumScape.
Step 1: Open a brokerage account
Once you've selected a broker you like, you need to apply to open a new brokerage account.There are multiple different types of brokerage accounts. The simplest and most straightforward account you can apply for is called a "cash account." This is a standard brokerage account that will let you buy shares in publicly traded stocks. And that's all you need to get started.

If you want to explore other types of accounts like retirement accounts or margin accounts, you can take the time to learn more. They might suit your needs better, but a standard cash account will meet your needs to invest in QuantumScape stock.
Step 2: Figure out your budget
An important part of investing is making sure you don't allocate too much to any single stock.

Considering QuantumScape is still in the early stages of business, it's important to be mindful that the stock could more easily go to $0 per share than a megacap stock like Apple (AAPL -0.95%). Apple brings in consistent revenue and generates huge amounts of free cash flow every quarter. It's a brand consumers love and buy year after year. QuantumScape's future is much more fragile.

So you shouldn't invest more in QuantumScape stock than you're willing to lose. That said, you don't want to invest such a small amount that if the company takes off, you wish you'd invested more. Finding a balance here is key, and only you can decide what's appropriate for your budget.
Step 3: Do your research
Once you've settled on how much you want to invest in QuantumScape, you need to do your research to figure out a fair price for the shares.

It's hard to make money in the stock market if you overpay for a company's shares. While stock prices will go up on any given day for any number of reasons, they go up in the long run only if the company produces earnings and cash flow in excess of investors' expectations. You want to think like a long-term investor.Read analysis of QuantumScape stock from both sides (buyers and sellers), dig into its quarterly earnings reports, and decide what you think is a fair price to pay for shares.
Step 4: Place an order
Once you have a price in mind and know how much you want to invest, the only thing left to do is place an order with your brokerage firm.You'll just need to click the trade button to begin and select your account from the drop-down menu.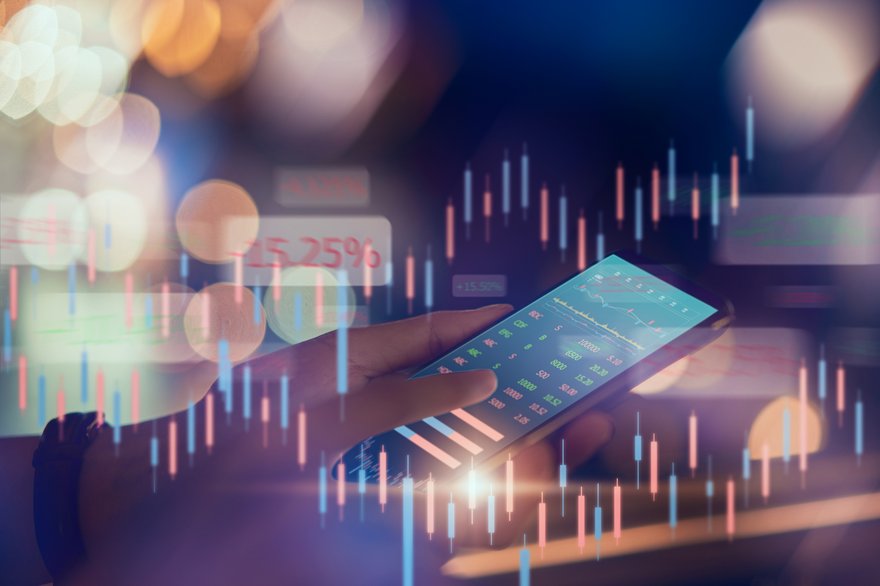 Image source: Getty Images.
Next, enter the ticker symbol of the stock you want to buy -- in this case QuantumScape, for which the ticker is QS.Make sure it's a buy order (not a sell order), and select the number of shares you want to buy. Alternatively, many platforms allow you to designate a set dollar amount to invest and allow you to buy fractional shares.

You can place either a market order, which will buy shares at the market price, or a limit order. A limit order allows you to designate a maximum price you're willing to pay for shares. This can be useful, even if your limit price is above the current market price. It'll ensure you don't overpay for shares.

Lastly, select the duration of the order. The order could be valid for the rest of the day, or it could be "Good 'til Canceled," which means the brokerage will continue to try to buy shares at your limit price every day up until you're required to renew the order (180 days in Fidelity's case).Check everything over and submit. If the stock trades below your limit price, you'll find yourself the a proud owner of a stake in QuantumScape.
Should I invest?
Should I invest in QuantumScape?
QuantumScape is one of the leading developers of solid state EV battery technology, which could play a major role in the next generation of electric vehicles.

Solid-state batteries have four main advantages over other types:
They're denser. That means they can produce more energy (which translates into a longer driving range) given a certain amount of space and weight, both of which are constraints for automobile manufacturers.
They're safer. Solid-state batteries don't contain a flammable liquid electrolyte solution. So auto manufacturers can do without certain safety components and can design a battery that can withstand higher temperatures without degradation.
They charge faster. Drivers can spend less time waiting for their car to charge and get back on the road. These batteries could also reduce the need for charging stations, since their throughput per station is higher.
They have longer lifespans. You can charge and discharge (cycle) solid-state batteries more than liquid electrolyte batteries without losing as much ability to produce energy. That means drivers can keep using the same battery for longer without having to pay for an expensive replacement.
QuantumScape is showing excellent progress toward developing a commercially viable solid-state battery for electric vehicles. Its A0 prototype exceeded expectations in one prospective customer's testing lab, retaining 95% of its capacity after 1,000 cycles. The goal, for reference, had been 80% retention after 800 cycles.

QuantumScape originally planned to ship its first commercial product at the end of 2023, but that goal may be pushed back. Still, its testing is encouraging, and it already has five partners lined up to receive its products when it's ready to go, including Volkswagen (VWAGY -0.31%), its largest shareholder).

That said, QuantumScape isn't the only company developing solid-state batteries. Just about every car manufacturer says it's investing in the technology. The big, and surprising, exception is Tesla (TSLA -1.36%).

It's also worth noting that another advancement in battery technology, silicon batteries, could prove a better solution for EV manufacturers.

QuantumScape holds some promising technology, and it's just around the corner from commercial sales. If it can effectively scale its operations, it could become a major supplier for a lot of different auto companies, which would position it well to grow along with the secular demand for electric vehicles.
Is QuantumScape profitable?
Is QuantumScape profitable?
QuantumScape is spending on research and development and capital expenditures but doesn't yet have a product to sell. As a result, the company is losing money.

The company produced a net loss of $441 million in the 12 months ended Sept. 30, 2023.Despite its pre-revenue status, QuantumScape held $1.1 billion in cash and securities on its balance sheet as of Sept. 30, 2023, with $300 million of that cash coming from a secondary stock offering in the summer of 2023. Management says it has enough cash to last into 2026.
Does QuantumScape pay a dividend?
Does QuantumScape pay a dividend?
QuantumScape does not pay a dividend.

It's still in the pre-revenue phase, so it's actively burning cash on research and development and capital expenditures as it works to perfect its technology and scale manufacturing.

It will likely be a long time before QuantumScape is in a position to pay a dividend. Even then, it may look to return capital to shareholders in a different way like share repurchases, or it may reinvest in the next generation of technology.
ETFs with exposure to QuantumScape
ETFs with exposure to QuantumScape
If you're a firm believer in the promises of solid-state battery technology, clean energy, and electric vehicles, but you're not sure QuantumScape is the company that can bring them to fruition, you may want to buy an exchange-traded fund (ETF) that includes QuantumScape stock in its holdings.
An exchange-traded fund, or ETF, allows investors to buy many stocks or bonds at once.
There are just a handful of ETFs with significant exposure to QuantumScape stock.
Source: iShares, Invesco. Data as of Nov. 14, 2023.

| ETF Name | Symbol | QuantumScape Weighting |
| --- | --- | --- |
| iShares Self-Driving EV and Tech | (NYSEMKT:IDRV) | 2.24% |
| Invesco WilderHill Clean Energy | (NYSEMKT:PBW) | 1.43% |
| Invesco Global Clean Energy | (NYSEMKT:PBD) | 1.00% |
The iShares Self-Driving EV and Tech ETF invests in stocks that stand to benefit from innovations in electric vehicles, battery technology, and autonomous driving. Its biggest holdings are auto manufacturers, but it holds stocks across the entire supply chain for autonomous EVs.The Invesco funds track indices of companies that are advancing clean energy. The global shares include stocks and ADRs from companies all over the world while the WilderHill index follows U.S.-based companies only.
Will it split?
Will QuantumScape stock split?
There are no plans for QuantumScape to split its stock. At its current share price, it should have no trouble attracting investors or efficiently paying employees with stock-based compensation, which are common reasons for stock splits.
The bottom line
The bottom line on QuantumScape
QuantumScape offers investors a chance to get in on a company at the leading edge of a core electric vehicle technology. That comes with a high level of risk, especially considering it doesn't generate any revenue at all at this point, but it also comes with a high level of reward. It's showing strong progress toward developing superior battery technology and the ability to scale the production of that technology for commercial sales.If you want to invest in QuantumScape, now could be a great time to get in on the shares.
Investing in QuantumScape FAQs
Is QuantumScape still a good investment?
QuantumScape recently reported better-than-expected test results for its A0 prototype. The prototype is the same format as its planned commercial product, so the company could have a huge opportunity on its hands to help auto manufacturers produce the next generation of electric vehicles. The challenge ahead is that it must solve some problems with its batteries and scale manufacturing up for commercial applications. If it can overcome those hurdles, it could turn out to be a great investment. If it can't, it'll likely lose a lot of money for shareholders.
Is QuantumScape publicly traded?
QuantumScape is publicly traded on the New York Stock Exchange under ticker QS.
What is the stock symbol for QuantumScape battery?
QuantumScape uses the stock symbol QS and trades on the New York Stock Exchange.
Who are the largest investors in QuantumScape?
QuantumScape received large investments from Volkswagen and Kohsla Ventures. The two hold stakes amounting to 23.1% and 14.7% of the company's vote respectively, as of March 31, 2023. Founders Jagdeep Singh, Timothy Holme, and Fritz Prinz hold 11.4%, 10.9%, and 9.4% of voting rights respectively
Adam Levy
has positions in Apple. The Motley Fool has positions in and recommends Apple, Tesla, and Volkswagen Ag. The Motley Fool has a
disclosure policy
.