Shopify (SHOP 0.6%) is a leading global commerce company that provides merchants with a portfolio of essential internet infrastructure solutions. The company's platform features hardware, software, and financial services. It empowers millions of businesses worldwide to provide customers with a better online shopping experience.

The company was formed in 2006 when co-founder and current CEO Tobias Lutke wanted to open an online store for snowboarding equipment. He didn't like the existing e-commerce product offerings on the market at the time. That led Lutke to tap into his computer programming background to build the platform that would become Shopify.
Shopify has grown into an industry leader with multiple products and services to meet the needs of merchants. In 2022, the company's platform supported $197.2 billion in gross merchandise volume (GMV), a 12% increase from the previous year.

The commerce company has two revenue streams:
Subscription solutions: The company earns recurring revenue by enabling merchants to sell products and services to their customers on a recurring basis. It generated 28% of its revenue from providing subscription solutions during the first half of 2023.
Merchant solutions: Shopify provides a variety of solutions to merchants. It generates revenue from payment processing fees and currency conversion fees (Shopify Payments), referral fees from its strategic partnerships, and Shopify Capital. One of those strategic partnerships is with supply chain technology company Flexport, which acquired Shopify Logistics in 2023. Merchant solutions supplied 72% of the company's revenue in the first half of 2023.
The company is investing heavily to develop and roll out additional solutions to support commerce. For example, Shopify Magic is a suite of artificial intelligence (AI)-enabled features to assist merchants with running their businesses. Meanwhile, it integrated its buy now, pay later offering (Shop Pay Installments) into its point-of-sale solutions to enable retailers to provide this option online and in-store.

Shopify has grown rapidly over the years. However, it believes that the opportunities ahead are still very large and growing, so it still has a long growth runway.

Its growth potential likely has investors excited about the company and interested in adding Shopify to their portfolio. Here's a step-by-step guide on how to invest in the stock and some things to know before adding Shopify to your portfolio.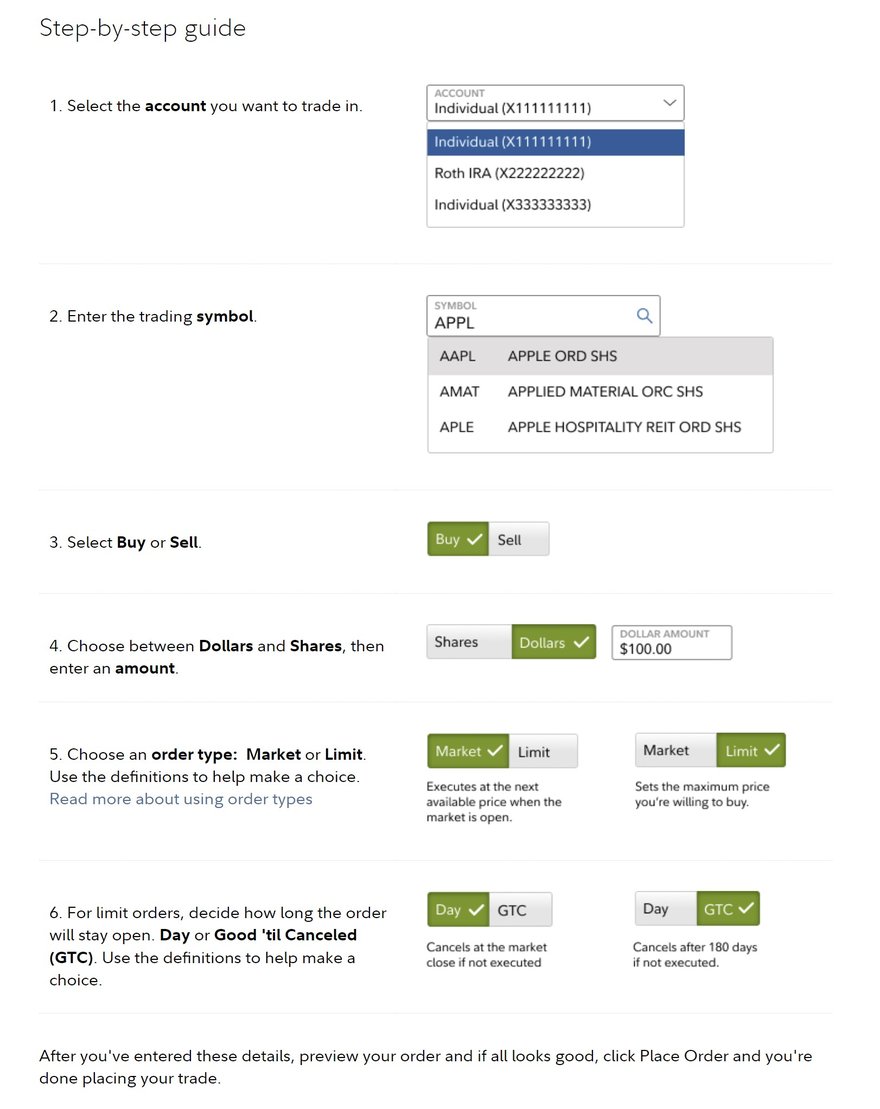 Image source: Fidelity.
On this page, you would fill out all the relevant information, including:
The number of shares you want to buy or the amount you want to invest to purchase fractional shares.
The ticker symbol (SHOP for Shopify).
Whether you want to place a limit order or a market order. The Motley Fool recommends using a market order because it guarantees you buy shares immediately at that market price.
Once you complete the order page, click the "Place Order" button at the bottom and become a Shopify shareholder.
E-commerce is the buying and selling of goods online and the related businesses that facilitate it
Should you invest?
Should I invest in Shopify?
Before buying shares of Shopify, investors need to determine if the stock is a good fit for their portfolio. Here's a list of reasons why you might want to invest in Shopify:
You want to own stocks directly and have time to follow the company.
You want to invest in a fast-growing company with high stock price appreciation potential.
You understand how Shopify makes money.
You like the company's business model and focus on providing commerce solutions.
You don't need dividend income.
You like that Shopify is a founder-led company.
You think the company's decision to sell its logistics business to Flexport is a smart move, and like that it retained an equity interest in that company.
You think the company's move into AI in retail will be a big growth driver in the future.
You understand that Shopify isn't solidly profitable.
You like that the company generates free cash flow and has a cash-rich balance sheet.
On the other hand, there are many reasons why an investor might decide that Shopify stock isn't right for their portfolio, including:
You don't want to own stocks directly or have time to follow the company.
You're near retirement and need dividend income.
You're concerned about how a recession might affect the consumer discretionary industry and the merchants utilizing Shopify's platform.
You want to invest in companies more consistently profitable than Shopify.
You're concerned about the risk that shares could lose value.
You don't think AI will be a major growth driver for the company.
You don't like the company's decision to sell its logistics business or its investment in Flexport.
A supply chain is a series of steps taken to obtain raw materials, turn them into a product, and deliver the product to consumers.
Is it profitable?
Is Shopify profitable?
Profit growth is one of the most important drivers of stock price growth over the long term. As of mid-2023, Shopify wasn't consistently profitable on a generally accepted accounting principles (GAAP) basis. However, the company did generate positive non-GAAP earnings and cash flow.

In 2022, Shopify reported $5.6 billion in revenue, a 21% increase from 2021. While the company reported a gross profit of $2.8 billion (11% higher than in 2021), it delivered an operating loss of $822.3 million after expenses (down from $268 million of net income in 2021). However, Shopify reported $6.1 million in net income for 2022 after adjustments.

Shopify continued to report operating losses during the first half of 2023. However, the company is producing positive cash flow. The second quarter of 2023 marked the third straight quarter that it was cash flow-positive.

The company was also producing free cash flow in 2023. It reported $97 million of free cash in the year's second quarter (6% of revenues) after generating $86 million (also 6% of revenue) in the first quarter. That added to its cash balance, which ended the period at $4.8 billion (against only about $900 million of convertible senior notes).

Changes in profitability have a significant correlation with the movement of Shopify's stock price: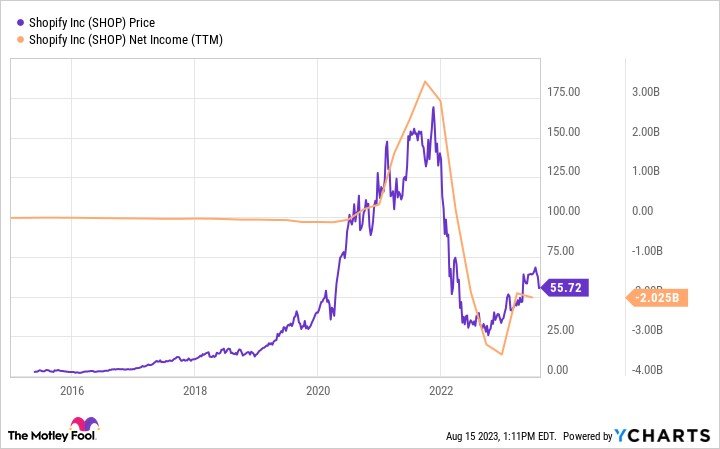 Image source: Ycharts.
As that chart shows, the company's profits initially soared following the pandemic, fueling its rising stock price. However, profits fell off a cliff in 2022, which weighed on the share price. On a more positive note, the early signs of a recovery of its profitability in 2023 gave its stock a lift.Given the impact Shopify's profitability has on its stock price, investors need to watch this metric closely. If the company can return to growing earnings briskly, its stock price could eventually rise to new heights.
Does it pay a dividend?
Does Shopify pay a dividend?
As of mid-2023, Shopify didn't make dividend payments to its shareholders. The company has never declared a dividend. It also doesn't expect to pay a dividend in the near future. Instead, Shopify retains its earnings to fund its operations and expand its business.

The company's fluctuating profitability also affects its ability to return money to investors by paying dividends and repurchasing shares. As the company matures and profits stabilize, it could eventually return cash to investors by initiating a dividend.
ETF options
ETFs with exposure to Shopify
Instead of actively investing in Shopify by purchasing shares directly, you also can passively invest in its stock through a fund that holds shares. One way to do that is through an exchange-traded fund (ETF) with a meaningful allocation to Shopify stock.
As of mid-2023, 75 ETFs held more than 15 million shares of Shopify, according to ETF.com. The biggest holder was the Ark Innovation ETF (ARKK 1.78%), an ETF managed by famed investor Cathie Wood. The fund held 5 million shares. Shopify was its 11th-largest holding in mid-2023 at roughly 4% of its total allocation. Meanwhile, another ETF managed by Cathie Wood had the largest allocation to Shopify. It was the second-largest holding of the Ark Fintech Innovation ETF (ARKF 1.74%) at 9.3% of its holdings. Given their relatively large allocations to Shopify, either Ark Innovation or Ark Fintech Innovation would be an option for investors seeking to gain some passive exposure to Shopify stock.
Will its stock split?
Will Shopify stock split?
Shopify completed its first (and only as of mid-2023) stock split in June 2022. The company completed a 10-for-1 split of its stock. At the time the company announced the split, shares traded at a pre-split price of more than $600.
The company didn't have another upcoming stock split as of mid-2023. It likely won't split its stock anytime soon. Shares traded in the mid-$50s in the middle of 2023, well below their pre-split price. The company will probably wait for shares to gain in value before completing another split since the recent price is accessible to most investors.
The bottom line on Shopify
Shopify is a fast-growing company. It has quickly become a leader in providing commerce solutions to merchants. It has a long growth runway ahead, which should enable Shopify to grow its earnings (and stock price), making it a potentially compelling investment opportunity for growth-focused investors.

However, Shopify stock isn't for everyone. It's not consistently profitable and doesn't currently pay dividends, making its shares more volatile. Investors need to carefully consider whether they want to invest in Shopify before adding shares to their portfolios.
Investing in Shopify FAQs:
Is Shopify publicly traded?
Shopify is a publicly traded company. It completed its initial public offering in May 2015 on the Toronto and New York Stock Exchange. It trades under the stock ticker symbol SHOP.
Who invests in Shopify?
Many institutions and retail investors own shares of Shopify. As of mid-2023, the top five Shopify shareholders were:
Baillie Gifford & Co.: 65 million shares (5.5% of outstanding shares) worth $4.2 billion.
Morgan Stanley (NYSE: MS) Investment Management: 57.6 million shares (4.8%) worth $3.7 billion.
Capital Research Global Investors: 47.2 million shares (3.9%) worth $3 billion.
The Vanguard Group: 39.8 million shares (3.3%) worth $2.6 billion.
T. Rowe Price Associates (NYSE: TROW): 33.5 million shares (2.8%) worth $2.2 billion.
Has Shopify ever paid dividends?
As of mid-2023, Shopify had never paid a dividend. The company also doesn't intend to declare a dividend in the near future. Instead, Shopify plans to continue retaining its earnings and cash flow to fund its operation and expansion.
Matthew DiLallo
has positions in Ark ETF Trust - Ark Innovation ETF and Shopify. The Motley Fool has positions in and recommends Shopify. The Motley Fool has a
disclosure policy
.