People want to know about investing in Zipline because it's an exciting delivery logistics start-up solving global problems with autonomous drones. Zipline was founded in 2014 and only started making deliveries in 2016. Despite how young this company is, it's already made more than 700,000 deliveries worldwide.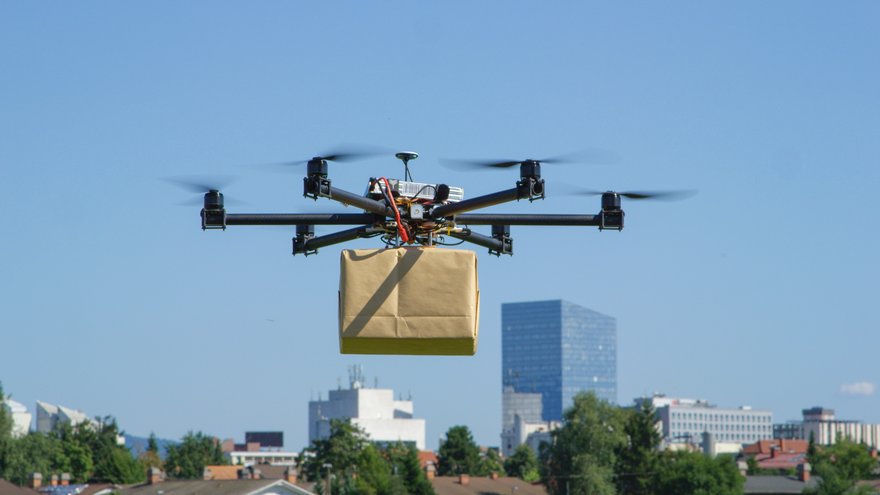 Image source: Getty Images.
The first country to get on board with Zipline was Rwanda. Anyone in the capital city of Kigali can watch the company's long-range Platform 1 (P1) drones zipping by at 60 miles per hour, delivering life-saving blood to remote medical centers nationwide.According to a 2022 study funded by the Canadian Institutes for Health Research, Rwanda is enjoying a 67% decrease in the amount of blood expiring before being used, all thanks to a Zipline system that clearly demonstrates the value of the service.Zipline's P1 delivery system used low-tech paper parachutes to drop packages where needed. But some want something a little more precise, which is being achieved through the company's Platform 2 (P2) system. The P2 autonomous drones hover in place, lowering a tethered compartment for safe loading and unloading.

Zipline adopters in the U.S. include retail giant Walmart (WMT 1.2%) and salad-centric restaurant chain Sweetgreen (SG 2.77%). Walmart is testing P1 deliveries in Arkansas before considering rolling out the service nationwide. For its part, Sweetgreen is using the P2 system.

It's worth noting that 32% of Sweetgreen's revenue in 2022 came from restaurants in New York City. So, its partnership with Zipline could soon bring drone deliveries to The Big Apple, showcasing it on a prominent global stage.In summary, what started for Zipline in Rwanda is quickly expanding into new countries and new use cases. In this article, I'll explain what you need to know about investing in Zipline today.
Is it public?
Is Zipline publicly traded?
As of October 2023, Zipline is not yet a publicly traded company, so shares don't trade on major stock exchanges like the New York Stock Exchange or the Nasdaq. So, most people can't directly invest in the company.
However, Zipline has raised money in a series of private investments. At some point, these private investors and insiders with a stake in the company will likely want an opportunity for greater liquidity, possibly motivating Zipline to go public in the future.
Zipline could go public through an initial public offering (IPO) or opt for a direct listing. Either way, it must file paperwork with the Securities and Exchange Commission (SEC) first, giving retail investors time to review the numbers before deciding whether to invest.
IPO (Initial Public Offering) is the first sale of stock by a private company to the public, making it a publicly traded entity.
When will it IPO?
When will Zipline IPO?
Anyone who peruses an IPO calendar will notice Zipline isn't there. That's because the company has not yet announced it's going public.

I believe it's reasonable to expect a Zipline IPO within the next few years. Consider that the company completed a $330 million Series F funding round in early 2023, valuing the company at $4.2 billion.Zipline is already on Series F, meaning many funding rounds have occurred. These private investors have limited options for recouping their investment and making money unless the company goes public.
They could sell their stakes in Zipline through private transactions, but this might be easier said than done for large stakes. Zipline could also buy out its investors, although the company would unlikely be financially positioned to do so.

Customarily, companies in Zipline's position will go public, allowing private investors to easily sell shares as desired. This is why an IPO within the next few years is likely for Zipline. And when it finally happens, retail investors will be able to buy this IPO stock just like any other.

Of course, this assumes Zipline stays an independent company. However, it could be acquired before going public, which often happens.
How to buy
How to buy Zipline stock
The SEC regulates investments in private companies, such as Zipline, allowing participation only from accredited investors. Private-market exchanges, such as Forge Global and EquityBee, have ways of obtaining shares.
One of the more direct ways for non-accredited investors to invest in Zipline is through an exchange-traded fund (ETF), which I'll get to in a moment. But it's also possible to invest in Zipline indirectly with shares of Alphabet (GOOG -0.13%)(GOOGL -0.0%), Goldman Sachs (GS -0.52%), and Toyota Tsusho.
An exchange-traded fund, or ETF, allows investors to buy many stocks or bonds at once.
1. Alphabet
Alphabet is known for its search engine, Google, and streaming video platform, YouTube. Its venture capital arm, Google Ventures (GV), is lesser-known. GV has participated in multiple funding rounds for Zipline, so it owns a stake in the business. If you buy Alphabet stock, you own a piece of Zipline.

That said, Alphabet is one of the world's biggest companies, so its stake in Zipline is incredibly small by comparison. There are hundreds of companies in GV's portfolio; Zipline is just a small piece of its venture investments. In short, investors in Alphabet have much more important things to consider when buying shares.
2. Goldman Sachs
Like Alphabet, Goldman Sachs has participated in multiple funding rounds for Zipline, so Goldman Sachs shareholders also own a small piece of Zipline.

However, like Alphabet, Goldman Sachs is a huge company with a market capitalization of about $100 billion. Even if Zipline is hugely successful, it's unlikely to move the needle much for Goldman Sachs shareholders. Anyone investing in Goldman Sachs will need to concentrate on its core business operations first and foremost.
3. Toyota Tsusho Corporation
Finally, Toyota Tsusho Corporation is a Japanese conglomerate that has invested in Zipline -- and is also a customer. In the Goto Islands, the country's more remote Southwest, Toyota Tsusho is delivering medical and pharmaceutical supplies in collaboration with Zipline's autonomous drones.

Toyota Tsusho is a publicly traded company on the Tokyo Stock Exchange. For U.S. citizens, trading international stocks on foreign exchanges isn't as straightforward as buying stocks on U.S. exchanges. Anyone looking to go this route will want to consult a professional to make sure they understand all the requirements and risks.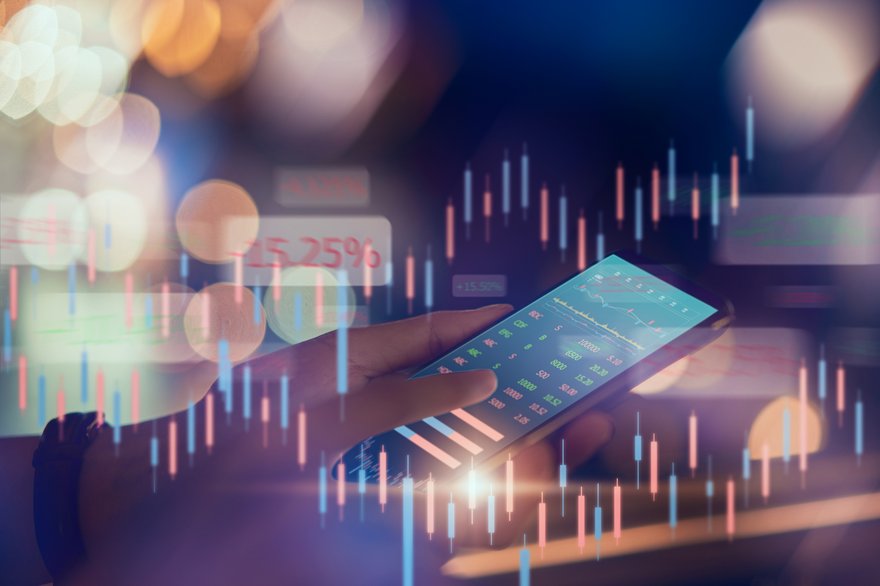 Image source: Getty Images.
Let's look at a step-by-step guide to buying stocks.
Step 1: Open a brokerage account
U.S. investors buying stocks on domestic exchanges have a more straightforward approach. It starts with opening a brokerage account, which is significantly easier and cheaper than in the past. Fidelity offers investing services that appeal to a large number of investors, though there are other good online brokerages as well.
Step 2: Figure out your budget
After opening a brokerage account, investors must determine their budget. There's no right answer here; it's a personalized process. Generally speaking, one shouldn't invest any money that might be needed within five years. Stock returns can be volatile. And if the money is needed during a sudden downturn, investors could be forced to sell at the worst possible time.
Step 3: Do your research
Once a budget has been set, investors can turn to researching stocks. When researching, investors need to consider the potential risks and the upside opportunities.
Finally, after adequate research, investors can buy a stock. All brokerages have slightly different ways to go about it. Generally speaking, you'll want to input the desired ticker symbol and how many shares you wish to buy. Many brokerages also allow the trading of fractional shares, in which case investors can set the amount of money they want to invest rather than the number of shares they want to own.
Profitability
Is Zipline profitable?
Zipline is a private company and, consequently, isn't required to disclose financial information to the public. But it's fair to believe that it isn't profitable.Private companies commonly focus on growth and expansion rather than optimizing the business for profits, which is venture capital's primary concern. It's also why private investors have provided Zipline hundreds of millions of dollars to date. They hope the company uses its investment capital to grow rapidly, and they don't want management to hold back growth with concerns about the bottom line.
Should I invest?
Should I invest in Zipline?
According to a 2022 report by Allied Market Research, the market for autonomous last-mile delivery is expected to grow at a mind-blowing 24% compound annual growth rate (CAGR) through 2030, exceeding $90 billion. So, there are reasons to believe this will be a big trend in the coming years, and Zipline is an aptly positioned company to benefit from the growth.
Zipline may have a competitive advantage when it comes to domestic autonomous drone delivery. The Federal Aviation Administration (FAA) controls airspace in the United States. And in 2022, Zipline was the first company of its kind to be approved for long-range drone delivery.

Though it's also operating in international markets, Zipline's U.S. growth is important for its long-term goals. Receiving FAA approval is a crucial step as it marches forward. Management is hoping growth will allow it to make more flights per year than major airlines in 2025, which is quite an ambitious goal.

There's certainly plenty to support a bullish outlook for Zipline. That said, this business has risks as well. One such risk is competition. Amazon (AMZN -0.66%) is, perhaps, the best-funded competitor and has been experimenting with autonomous drone delivery for years.

It's important to note that Zipline is more than just its drones. The company also must provide its customers with distribution centers and logistics software to make everything work smoothly. Amazon particularly excels at distribution centers and software, potentially giving it a leg up on Zipline as the trend in autonomous last-mile delivery plays out.
There's no right answer when investing in stocks, because the future is uncertain. This is also evident with Zipline -- there are ways it can create value but also things that could undermine its progress. Investors will need to weigh the risks against the potential upside to determine whether this investment makes sense for them and their personal financial goals.
ETF options
ETFs with exposure to Zipline
So far, most of Zipline's funding has come from venture capital. Fortunately for retail investors, one fund "seeks to democratize venture capital." This fund is the ARK Venture Fund, which comes from Cathie Wood's Ark Invest.

The Ark Venture Fund has a portfolio comprising both public and private companies. According to current fund documents, Zipline is the fifth-largest position, with a 4.34% allocation. The fund is available to non-accredited investors but does come with a $500 minimum investment.
Anyone interested in a fund like this should be sure to read all the relevant documents before investing. This is an actively managed fund, and fees can be above average, diminishing its potential upside.
The bottom line on Zipline
Zipline is using autonomous drones to make deliveries worldwide. The company is growing fast and could benefit from industry trends.There are ways to invest in this business, both directly and indirectly. However, not all relevant information is public at this time, so it can be hard to assess it as an investment. And there are stiff challenges ahead that investors must fully consider before investing in Zipline.
FAQs
Investing in Zipline FAQs
Will Zipline stock go public?
Zipline will probably go public someday. But, as of October 2023, the company still hasn't announced anything.
Is Zipline company profitable?
Zipline is a private company, meaning its financial information isn't publicly available. However, it likely has annual net losses at this time.
Who owns the company Zipline?
Zipline is owned by insiders and investors, including venture capital firms.
How do I invest in pre-IPO shares?
Accredited investors can try buying pre-IPO shares of Zipline on exchanges that facilitate investments in private companies.
John Mackey, former CEO of Whole Foods Market, an Amazon subsidiary, is a member of The Motley Fool's board of directors. Suzanne Frey, an executive at Alphabet, is a member of The Motley Fool's board of directors.
Jon Quast
has no position in any of the stocks mentioned. The Motley Fool has positions in and recommends Alphabet, Amazon, Goldman Sachs Group, and Walmart. The Motley Fool recommends Sweetgreen. The Motley Fool has a
disclosure policy
.