Earnings season is the time each quarter when most publicly traded companies report their quarterly or annual earnings. It is generally when most volatility happens at the individual stock level.Let's go over the timing of earnings season and how it can affect your investment.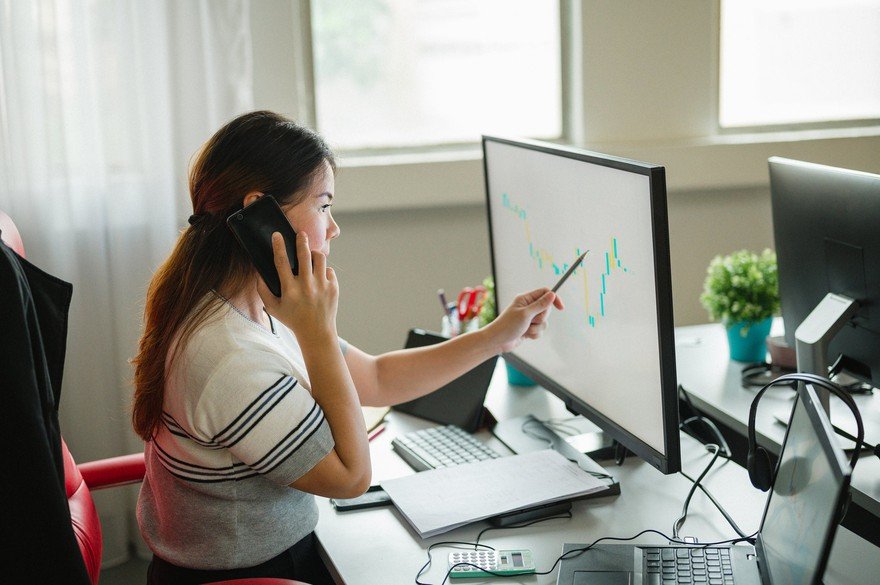 Image source: Getty Images
When is earnings season?
In the U.S., earnings season happens quarterly, or once every three months, for public companies. In some foreign markets, it happens semiannually, or once every six months. Earnings season generally begins a few weeks after the end of the prior fiscal quarter and lasts for about six weeks.

Some companies get their earnings together and report right away in those first few weeks, but others wait as long as two months after the quarter to release earnings. It's a lot of work to close accounts, get an audit done if it's required, and have a lawyer put together the filings required by the Securities and Exchange Commission. If you own a wide range of stocks, it's possible that you would be in earnings season more often than not.

Here are the general date ranges for earnings season for each quarter (note that companies with an unusual fiscal quarter may report on a different schedule):
First quarter (ends March 30): April 15 to May 31
Second quarter (ends June 30): July 15 to Aug. 31
Third quarter (ends Sept. 30): Oct. 15 to Nov. 30
Fourth quarter (ends Dec. 31): Jan. 15 to Feb. 28
Why is earnings season important?
Earnings season is certainly more important for smaller, growth-oriented companies. Stodgy old stalwarts in the Dow that your grandparents have owned for 60 years probably won't see much of a bump.

For growth companies, the reason earnings season is so important is that the companies are still in the process of proving out a business model and potentially even a product. Quarterly earnings reporting is one of the few times during the year when the company is required to report on its progress. Analysts, investors, and the media alike await the report with bated breath to see how the progress is going.It's all about expectations. Small companies can see 20% moves (in either direction) when they report quarterly earnings. At times, a small company will have a blowout quarter, and the stock will plateau or go down because the market's expectations are too high.Pay attention to what day the company reports earnings. Some companies with poor results will do a late Friday filing and announcement to try to keep the results out of the news.Let's look at a few recent examples:
Source: Netflix.com
Netflix (NFLX -0.63%) reported results on a Tuesday in July. You'd think Netflix would qualify as a stodgy old stalwart that your grandparents have owned for, well, 16 years by this point. But the stock market reacted strongly to the report, sending the shares down from $531 per share to $513 in one day.

Source: DocuSign.com
DocuSign (DOCU 2.22%) is one of the companies with a weird fiscal quarter end; its second quarter ends on July 31. DocuSign reported 50% growth in revenue, and its stock responded with a 5% jump.

These aren't the types of big moves many traders and investors are used to. Netflix had a meh earnings report and fell just 3%; DocuSign blew out revenue growth and jumped 5%. Both of these reports happened following years of strong upward movement for both stocks. It's possible the market is fatigued by this trend, and there just wasn't enough volume for a strong move either way.
How to benefit from earnings season 
As long-term investors, we look at earnings season a lot differently than many traders. Quarterly earnings analysis is imperative for good fundamental investing, but trying to guess and trade around big moves on earnings day is a fool's game.
Use earnings season to make sure your investment thesis is still valid. Read closely what a company's management says and compare it to what they do. Don't get freaked out by one or two bad quarters. If anything, use a few bad quarters by an otherwise good company as a buying opportunity if the market overreacts.
Understanding earnings season is just another useful item in your toolkit as you learn to be a better investor.
Mike Price
has no position in any of the stocks mentioned. The Motley Fool has positions in and recommends DocuSign and Netflix. The Motley Fool recommends the following options: long January 2024 $60 calls on DocuSign. The Motley Fool has a
disclosure policy
.